Most pet owners would agree that the bond you have with your fluffy friend is something that's unbreakable. New York-based artist Gemma Gené (of 157 of gemma) is one proud parent of an adorable pug named Mochi. She shares their hilarious day-to-day scenarios in a relatable daily webcomic that illustrates their adorable, inseparable relationship.
Mochi joined Gené's family in 2012, but it wasn't until 2014 that the artist began drawing her lovable pooch while on her daily subway commutes to and from work. From his jealous tendencies towards Gené's husband Peli to his insatiable appetite, each cute comic perfectly captures Mochi's hilarious personality. "He is super sweet and well-behaved, but he can be very sassy and pretty much does whatever he wants," says Gené. "His favorite activities include sleeping, eating, and going for walks, specially when he is being carried."
Although Mochi tends to demand full attention from his "Mami," he actually has to share her with his equally cheeky twin brothers Huey and Duey, also known as the Twinchis. "They love playing with each other and annoying Mochi," reveals Gené. "They spent most of their time making confetti out of books they destroy and getting into all sorts of trouble."
Check out some of Gené's illustrated moments with Mochi below and keep up to date with the charming webcomic series on Instagram. If you love Gené's adorable drawings, you can also purchase her illustrations as art prints, stickers, and much more on Society6.
Gemma Gené's heartwarming webcomic illustrates what it's like to live with her pet pug named Mochi.
The pair clearly have an unbreakable bond.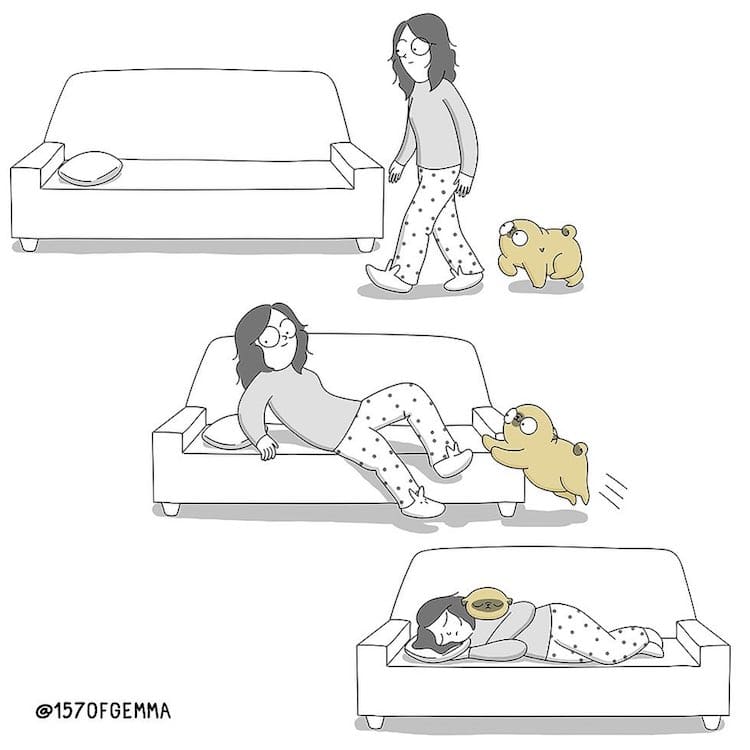 Mochi's hilarious sassy attitude is sure to put a smile on your face.
Each illustration is totally relatable for fellow dog owners.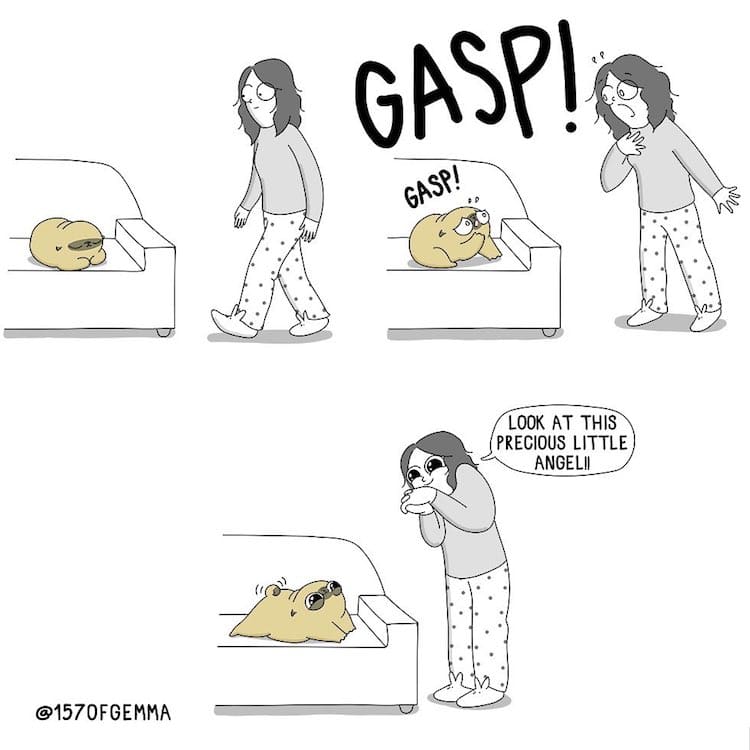 Gemma Gené / 157 of gemma: Website | Facebook | Instagram | Twitter | YouTube | Society6
My Modern Met granted permission to feature photos by Gemma Gené / 157 of gemma.
Related Articles:
Adorable Webcomic Illustrates Love Between a Dog Mom and Her Pug
Charming Comics Illustrate How Dogs Are the Best in the Funniest Ways
Heartwarming Illustrations Show How People with Dogs Are Living Their Best Lives
Photographer Shares Adorable Pug's Silly Side While Going on Adventures Together