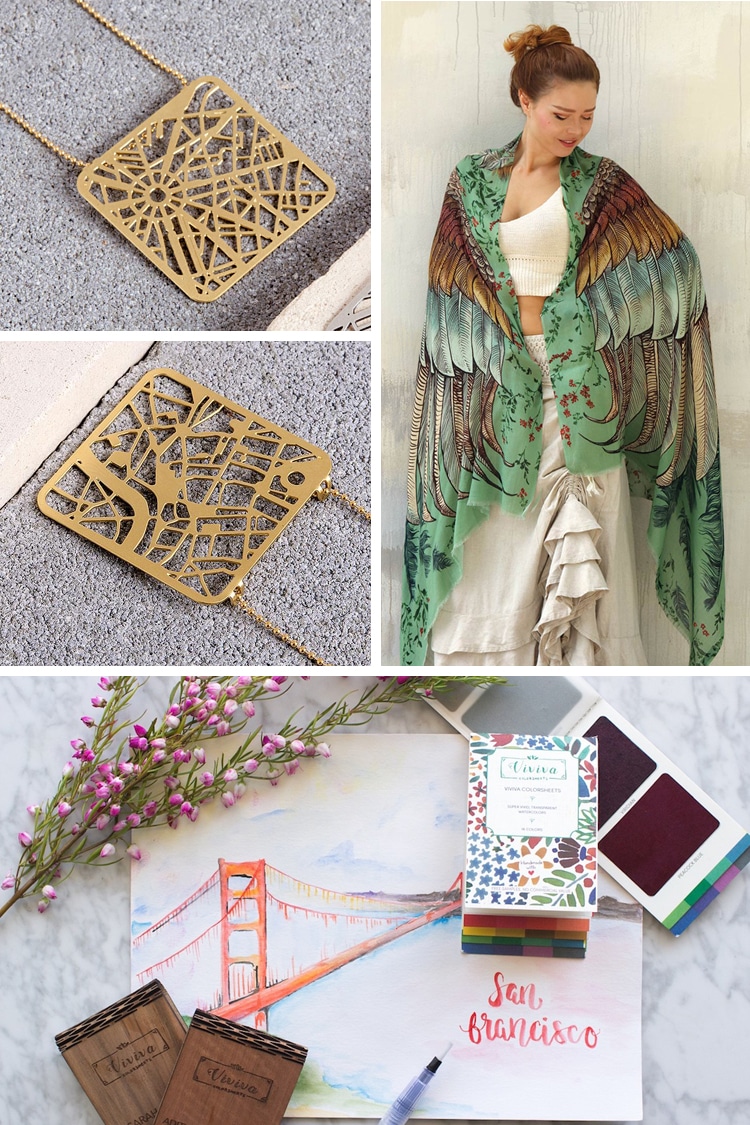 So, your favorite jet setter is back from another trip, and it's their birthday. What do you get them? There are, of course, neck pillows and compression socks, but those aren't the only options for travel gifts that your recipient will love. At My Modern Met Store, we have a selection of creative products that are ideal for someone with a permanent sense of wanderlust.
Some of our favorite gifts look great while being practical to boot. One of our best sellers is Shovava's Vintage Shawl. It'll take your recipient's trip style to new heights with a gorgeous feather illustration that spans the width of the garment. While fashionable, the shawl also embraces function and is large enough for them to cozy up with on an airplane. (We know how chilly the cabin can be!)
Another type of travel gift commemorates places that your recipient has been. Talia Sari's abstract map pendants are tailor-made for those that love to visit metropolises. We have some of the most famous cities on Earth available as gold-plated necklaces that are sure to remind your friend of all the good times they had in the likes of Paris and London.
Scroll down for our picks of the best gifts for travelers. For more ideas, check out our curated collection in My Modern Met Store.
Know someone who has a permanent sense of wanderlust? Check out our selection of travel gifts from My Modern Met Store!
We have gifts to accompany a special trip…
White Bird Scarf
Pablo Colored Pencils (Set of 12)
Magician Bookmark
How to Be a Wildflower by Katie Daisy
Viviva Colorsheets
Breakfast at Tiffany's Book Purse
Vintage Shawl
… and gifts that will help someone commemorate a memorable journey!
Paris Map Necklace
A Brief History of Art Mugs
Artist Socks Gift Set
London Map Necklace
Frank Lloyd Wright Paper Models Book
Vincent van Gogh Enamel Pin Set
Disappearing Constellation Mug
Chicago Map Necklace
Andy Warhol Sock Box Set
Related Articles:
15 Wander-ful Travel Journals to Creatively Record Your Next Great Adventure
Traveling Artists Use Embroidery to Immortalize Inspiring European Architecture
Watercolor Scratch-Off Maps Offer a Colorfully Fun Way to Track Your Travels