Weighted blankets have become one of the hottest trends in bedding, and it's with good reason—studies have shown that sleeping with a weighted blanket improves the overall quality of your sleep by covering you with at least 10 pounds of extra weight. In doing so, it gives you a "tucked in" feeling that reduces anxiety and stress levels. Often, these types of blankets come in sizes meant for a single sleeper. But the Big Blanket Co. is changing this with their XL Weighted Blanket. Measuring 100″ by 120″ with a heft of 30 pounds, this oversized covering is perfect for two people and can replace your current comforter on your bed.
The XL Weighted Blanket has made it easy to care for and comes with a removable duvet cover that conceals the weighted premium glass beads inside. The cover is 100% moisture-wicking cotton that promises to keep you cool in the summer and warm in the winter while remaining feathery soft year-round. You don't have to worry about stains or spills either—if it happens, you can just throw the weighted blanket in your washing machine.
If you want your own XL Weighted Blanket, it comes in three colors: Light Gray, Dark Gray, and Navy. It's now available for pre-order through their Kickstarter campaign with a projected delivery by the end of 2019.
Looking for a big weighted blanket? The Big Blanket Co. has you covered with their XL Weighted Blanket that measures 100″ x 120″ (perfect for king size beds) and weighs 30 pounds.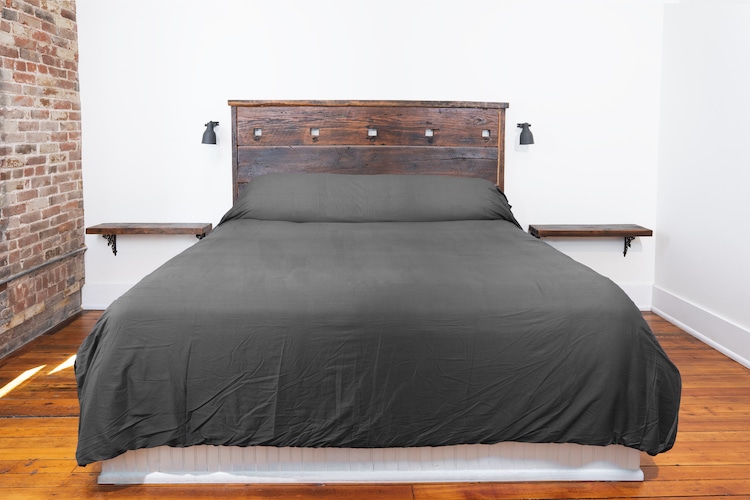 They are available in three colors through Kickstarter.
To learn more about the blanket, watch the video below.
Big Blanket Co.: Website | Facebook | Instagram | Kickstarter
All images via Big Blanket Co.
Related Articles:
Ultra-Cozy Giant Knit Blankets Are Made Without Any Knitting Needles Necessary
22 Contemporary Quilt Patterns to Add a Stylish Touch to Your Cozy Home
Doting Dad Translates His Baby's Sleep Pattern Data into a Cuddly Knit Blanket