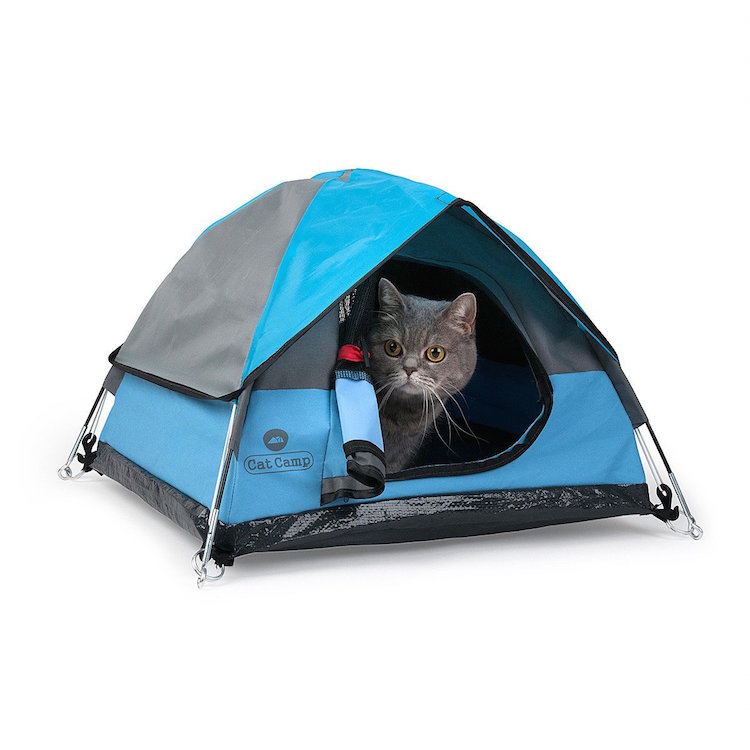 Most cat owners know that our furry feline friends love a cozy place to hide or nap. From stylish cat towers to novelty beds, we've seen many feline-focused designs recently. The latest kitty hideaway comes in the form of an adorable cat-sized camping tent. Designed by Australian company Cat Camp, the mini structure looks just like a human-sized tent and can be used both indoors and outside.
Lightweight, easy to assemble, and made from (claw-proof) durable materials, the Cat Camp team collaborated with leading outdoor engineers to create their product. The final tent design underwent testing by 20 different cats before being given a cat-comfort seal of approval. "Over the last 12 months, we've been building and testing Cat Tents in homes across the country, and have designed the ultimate tent for your cat—just like the real thing (only tiny and designed for your living room)." said Cat Camp. "We've hand-crafted and designed our awesome tents to be as cute, comfortable and functional as possible."
The teeny tiny tents come in three colors—blue, red, and orange—and are shipped from Australia. As an added bonus, 10% of every sale goes to Alley Cat Allies, a non-profit organization focused on improving the lives of cats. And if you aren't sure if your cat's into camping, let's face it, they'll probably adore the cardboard packaging it comes in!
Find out more on the Cat Camp website.
Australian company Cat Camp have designed the purrfect kitty hideaway in the form of a cat-sized camping tent.
The adorable mini structure looks just like a human-sized tent, and can be used both indoors and outside.
Scroll down to see the some of the many happy campers.
Cat Camp: Website | Facebook | Instagram | Twitter
h/t: [designboom, Laughing Squid]
All images via Cat Camp.
Related Articles:
Stylish Cat Tower is the "Ultimate Playground" for Fun-Loving Felines
Cats Can Have Sweet Dreams in This Bed Shaped Like a Giant Fruit Tart
Design Studio Creates Modular Cardboard Furniture for Cats
Photographer Captures the Blissed-Out Expressions of Cats High on Catnip