With cars being one of the world's leading causes of pollution, more and more people are opting for eco-friendly travel alternatives. One option is an electric bike—a bicycle with an electric motor, designed to give you an extra boost when you push the pedals. The popularity of e-bikes is certainly gathering speed, with new brands and models being released every year. One of the newest e-bikes on the market is the Kickstarter-funded oh!bike—a responsive, bio-tech bike designed for city commuters.
The innovative e-bike interprets and adapts to the needs of the individual user, giving them assisted pedaling according to the level of help they need. While the user operates the pedals, integrated motion sensors detect the rider's movements and engage the motorized drive on the front wheel. A removable battery with a range of up to 50 km powers the 250W motor. Users can choose to ride with eco-mode (giving light assistance) or power-mode, allowing the bike to give a helpful maximum boost in challenging terrain.
Weighing just 15 kg (about 33 lbs.), the oh!bike is the lightest bike on the market. Its ultra-sleek black and white body can easily be stored, thanks to foldable pedals and a rotating handlebar. Plus, the detachable battery can be charged via USB, allowing busy city workers to top up their power wherever they go. The Barcelona-based oh!bike designers say, "Because we believe in the revolution of eco-responsible cities. Because we like to move around the city in an agile and fast way. Because we do not like unnecessary complexities. And above all because we like beauty and good design. We present you oh!bike."
You can find out more about this super-smart electric bike on the oh!bike website and support the project on Kickstarter.
The oh!bike is a smart bio-tech electric bike designed for city commuters.
Motion sensors on the pedals allow the e-bike to detect when riders need an extra boost.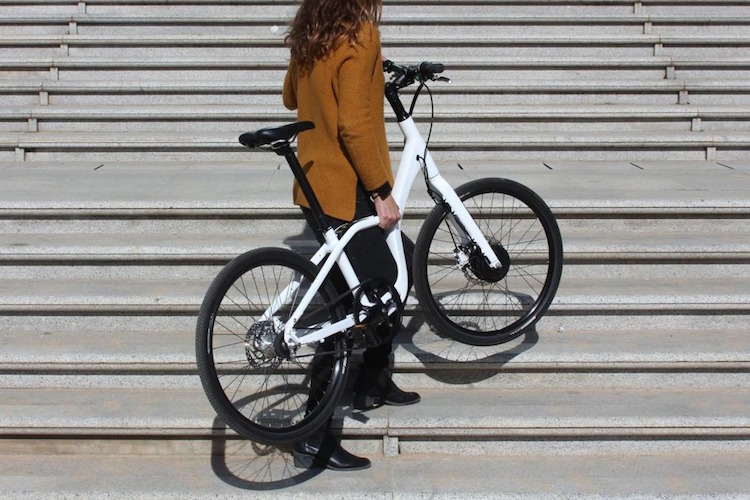 The eco-mode provides light assistance.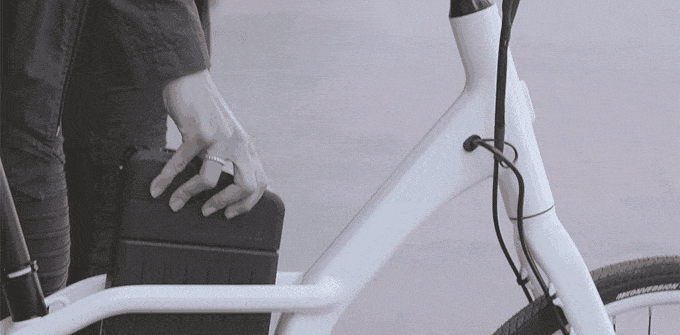 And the power mode gives a maximum boost when riding through challenging terrain.
Its ultra-sleek black and white body can easily be stored, thanks to foldable pedals and a rotating handlebar.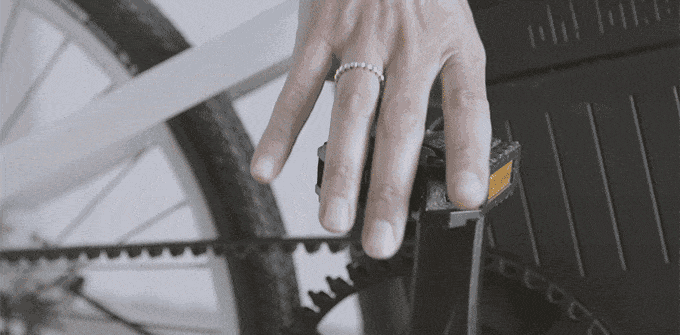 Here's everything you need to know at a glance.
oh!bike: Website | Facebook | Instagram
h/t: [Yanko Design]
All images via oh!bike.
Related Articles:
Stylish and Affordable Electric Bike Designed for Effortless Daily Commutes
World's First Foldable Electric Bike Is Self-Charging to Gain Energy as You Pedal
Exquisite Electric Bikes Made with Vintage Parts From the 1950s