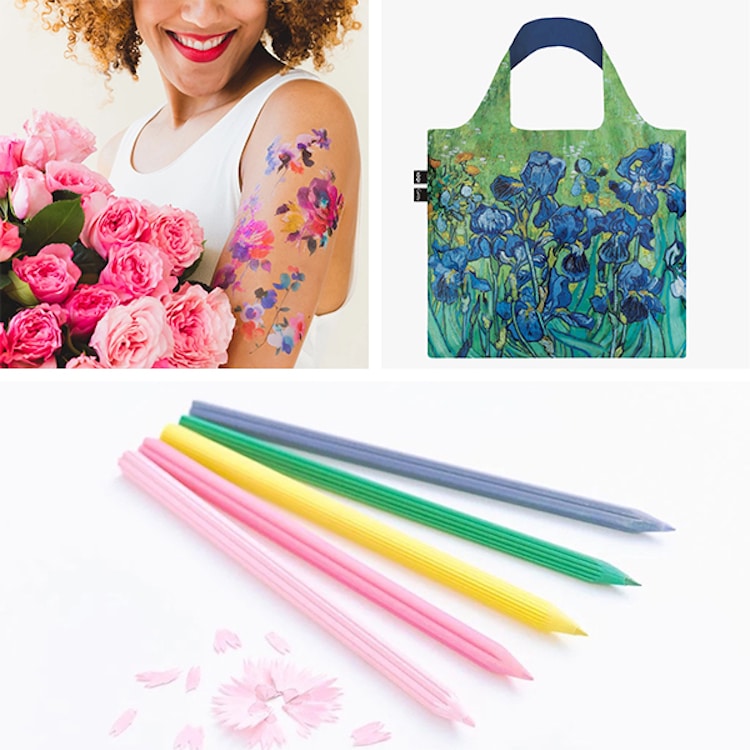 Flowers are synonymous with warm weather and happy occasions. And while nothing can replace a fresh bouquet, some floral products come pretty close. My Modern Met Store carries a variety of flower-inspired gifts that make great pick-me-ups all year long.
In this collection, you will find everything from wearable accessories to books that will inspire you to enjoy the outdoors. Some of our favorites include Tattly's series of temporary tattoos. The Blue Floral Temporary Tattoos, for instance, come with eight stunning designs of cerulean blooms that you can add to your skin, lasting between two and four days. Similarly, the Irises Tote Bag by LOQI is a chic and useful piece to keep around for all of those last-minute shopping sprees.
We've also included items that you can incorporate into your living space. The Water Lilies Candle by Flatyz is a stunning piece handmade by artisans that perfectly captures the beauty of Claude Monet's Impressionist painting. Additionally, you can pick up a set of the Flower Color Pencils to bring a bit of whimsy to your journaling and note-taking projects.
Scroll down to check out our selection of floral gifts and head over to My Modern Met Store when you're ready to checkout.
We've picked out 10 floral gifts that are the perfect pick-me-up!
Blue Floral Temporary Tattoos
In Bloom Temporary Tattoos
Embroidery Temporary Tattoos
Water Lilies Candle
Flower Pattern Tote Bag
Flower Color Pencils (Set of 5)
Irises Recycled Tote Bag
Almond Blossom Recycled Weekender
How to Be a Wildflower
Flower Pattern Zip Pockets
Related Articles:
21 Enchanting Accessories & Pieces of Jewelry Made With Real Flowers
This LEGO 3D Puzzle Set Lets You Recreate a Colorful Flower Garden
Learn How To Turn Summer Flowers Into Pressed Art in This Online Class