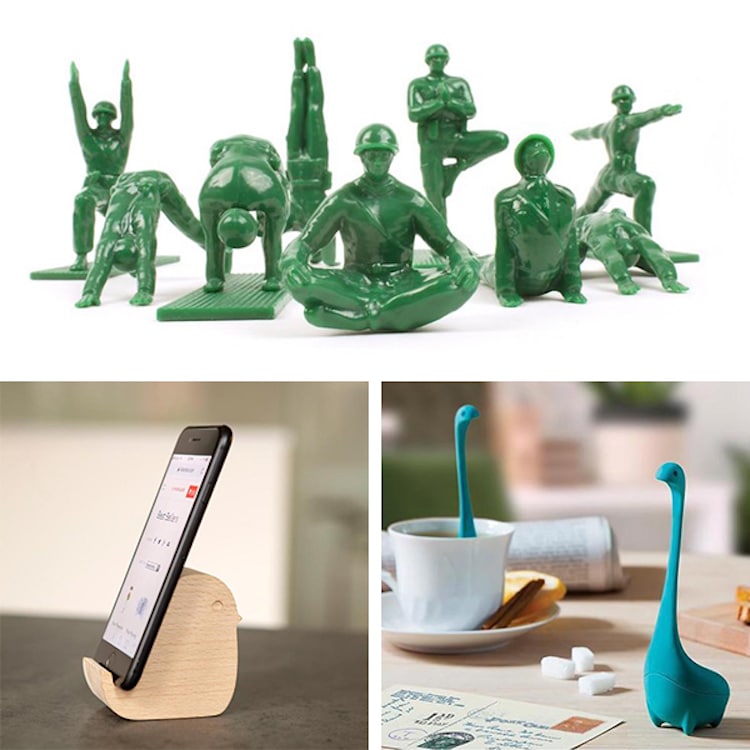 It can be challenging to shop for a coworker. Depending on how long you have worked together, you may not know their likes and dislikes, or what their hobbies are. Luckily, there are some gifts that work for every occasion. My Modern Met Store offers a curated collection of gifts for coworkers that you can bring to a last-minute birthday party, a gift exchange during the holiday season, and everything in between.
If all you know about your coworker is some of their habits, you can easily find a product to suit their lifestyle. The Bird Beechwood Phone Stand is a great accessory for someone's desk space. Shaped like an adorable stylized bird, this piece can prop up your coworker's smartphone so they can be hands-free while they watch a video or even while they join a zoom meeting. Similarly, the "Book and Hero" Superhero Bookend is the perfect gift for a recipient who enjoys watching Marvel movies. Nobody can say no to some sprucing up if a superhero is offering their help to get the job done.
On the other hand, if your favorite coworker is also your best friend, you may have the upper hand when it comes to brainstorming gift ideas. Some of our top picks—which work for occasions big and small—add a little whimsy to the person's routine. The Birds on a Wire Mug, for instance, transforms the black silhouettes of birds into colorful plumage after a hot beverage is added to the cup. Depending on their tastes, this magic mug will surely spark inspiration. Similarly, the Baby Nessie Tea infuser helps release the flavors of loose-leaf tea in an efficient and adorable way. Both of these items will make someone smile after a long day.
Scroll down to see our full selection, and head over to My Modern Met Store when you're ready to checkout.
20 Gift Ideas for Coworkers That Fit Every Occasion
Office Accessories
Bird Beechwood Smartphone Stand
"Book & Hero" Superhero Bookend
Classic Characters: Women Trailblazers Page Flags Set
"Tweet Pete" Smartphone Holder
Rainbow Pencils
Mugs & Accessories
Bob Ross Mug
Planet Mug
Birds on a Wire Mug
"Optic Table Tile" Coasters
Baby Nessie Tea Infuser
Useful/Inspiring Everyday Items
Pocket Frida Kahlo Wisdom Book
The Great Wave Tote Bag
Holstee Manifesto Poster
Sage Living: Decorate for the Life You Want Book
Fun Stuff for the Desk
Mars Dust Globe
Yoga Joes: Series 1 Figurines
"Cubebot" Puzzle Toy
Solar-Powered Rainbowmaker with Crystal
Wooden Dog Stacking Game
And if all else fails…
Socks
Color Wheel Crew Socks
Related Articles:
15 Enchanting Gifts That Double as Good Luck Charms
15 Unique Birthday Gifts for Mom That Will Make Her Day Extra Special
42 Purrfect Gifts for People Who Love Animals