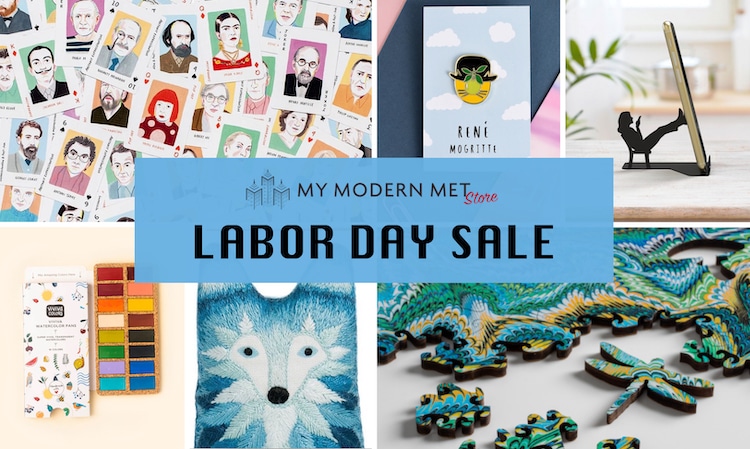 Labor Day weekend often signifies the end of summer and also marks the beginning of the shopping season. Whether you're picking up back-to-school items or getting ahead on your holiday gift list, be sure to visit My Modern Met Store during our special Labor Day sale. By using the code LABORDAY23 at checkout, you'll save 15% off your entire order of unique gifts from September 1 to September 4 at 11:59 p.m. PDT.
The coziest time of year is coming up, so you'll want to make sure you're prepared. Having a great mug is essential for all the coffee, hot cocoa, and apple cider you're sure to enjoy in the coming months. Add to the fun with the Disappearing Constellation mug by Unemployed Philosophers Guild. It has "disappearing" stars including Ursa Major, Ursa Minor, and Orion hidden beneath its surface when the vessel is cold. But pour a hot beverage in it and you'll see the star formations come to life.
Are you a tea drinker? If so, we have something that will make your tea time legendary: the Baby Nessie tea infuser. Composed of silicone, you simply separate the head of the Baby Nessie from its feet and place your loose-leaf tea in it. Then, submerge Nessie and wait for the tea to brew. The infuser is dishwasher safe making it easy to clean.
Visit My Modern Met Store to see our entire selection of creative products. When you're ready to check out, use the code LABORDAY23 to save 15% on your entire order through September 4. And if you spend over $100, the shipping is on us (for U.S. locations only).
To celebrate Labor Day, My Modern Met Store is offering a 15% discount on everything when you use the code LABORDAY23 from September 1 to September 4, 11:59 p.m. PDT.
Big Wooden Cat Pile Game
Rainbow Puzzle
PyroPet Kisa Cat Candle
Frida Kahlo Action Figure
Disappearing Constellation Mug
Baby Nessie Tea Infuser
Optic Table Tiles
Falling Bookend
Manifesto Poster
Wolf Embroidery Kit
RGB & CMYK Earrings
Yayoi Catsama Enamel Pin
Adjustable Three-Piece Crane Ring
Multicolor Pencils: Pack of 5 Rainbow Pencils
Rainbow Joes: Series 1 Figurines
Related Articles:
Wish Your Dad a Very Happy Birthday With This Collection of Creative Products
Open This Pocket-Sized Frida Kahlo Book for Inspirational Quotes on Love, Life, and Art
These 1,000-Piece Jigsaw Puzzles Let You Recreate the Greatest Works From Art History
Follow My Modern Met Store: Facebook | Instagram | Pinterest | Twitter
Subscribe to My Modern Met Store newsletter for updates!