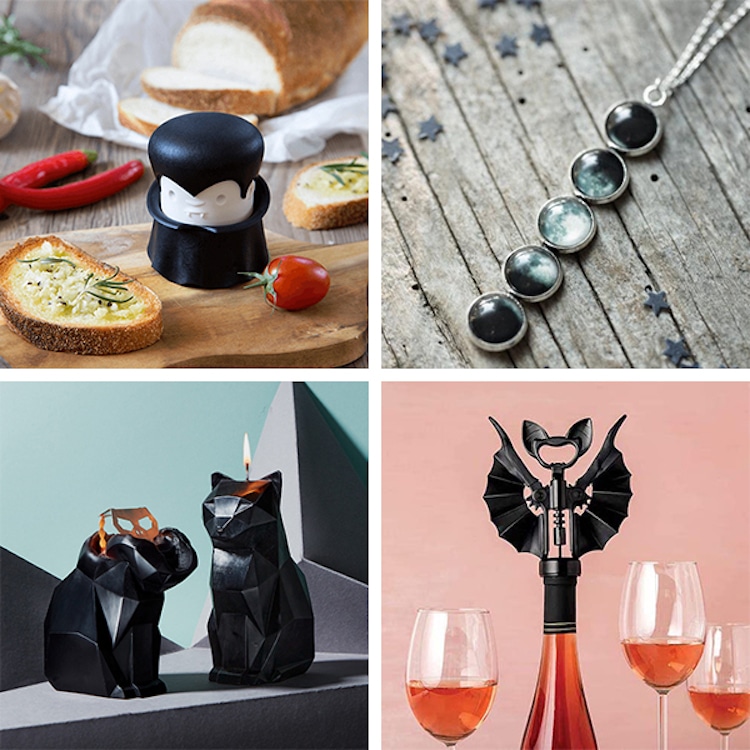 Halloween is just around the corner, which means pumpkin carving, costume parties, and scary movie nights all month long. And today is Friday the 13th, which is the perfect time to get the full swing of frighteningly fun festivities. If you're not in the spooky spirit yet, My Modern Met Store can help you out. We've put together a collection of Halloween-inspired products that will prepare you for the ghoulish holiday.
Among these products are gadgets that can be used at festive dinner parties or around the home as decoration. The Pyropet Kisa Candle, for instance, looks like a black cat at first; but as it melts, it reveals an uncanny metal feline skeleton. Additionally, the Vino Corkscrew is shaped like a large black bat, and makes the ideal helper to bottles of wine at parties.
If you feel like dressing up for Halloween, but not necessarily keen on wearing a whole costume, we have you covered. The Moon Phase necklace evokes mysterious dark nights and pairs well with any ensemble. Similarly, the Screamy Ed socks will put you in the mood for horror films with its pair of scared faces. We've got everything from vampires, black cats, werewolves, and monsters (including the Loch Ness monster) to full moons, eery owls, blood-curdling screams, and chase scenes.
Scroll down to browse more of our picks, and head over to My Modern Met Store when you're ready to check out.
Get in the spooky spirit with these Halloween-inspired products.
PyroPet Kisa Cat Candle
Vino Corkscrew and Bottle Opener
Gracula Garlic Twist
Pasta Monster Serving Spoons
Nessie Ladle
Runaway Bookend
Falling Bookend
Screamy Ed Socks
Wolf Embroidery Kit
Moon Phase Pendant Necklace
Wheat Barn Owl Bird Scarf
Oval Raw Meteorite Pendant Necklace
Meowhaus Enamel Pin
Basquicat Enamel Pin
The Scream Socks
Saturn Devouring His Son Socks
Soft Watch at the Moment of Its First Explosion Jigsaw Puzzle
Related Articles:
What's Your Perfect Halloween Costume? Take the Quiz
37 Halloween Pumpkin Carving Ideas to Creatively Celebrate the Spookiest Time of Year
31+ Spook-tacular Gifts To Get Your Spirit Ready for Halloween