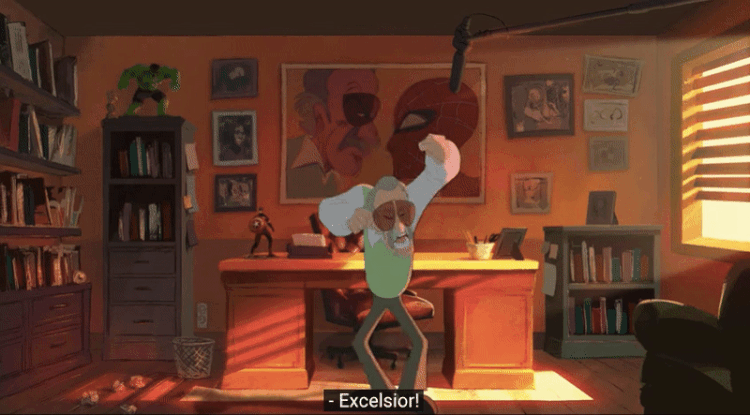 The late Stan Lee may no longer be with us, but the comic book legend still lives on through the Marvel superheroes he created. For decades, he provided the masses with amazing stories of adventure, but for those who worked closely with him, he also gave them friendship, joy, and laughter. This is captured in an animated short made by Lee's former sound engineer Aron Fromm. He worked with character designers Kosmo Columbo Perry and Richard Plata to visualize a real sound recording of Lee going off on a hilarious rant.
Titled Sessions with Stan, the two-minute video gives an insight into the mind of the legend himself. Fromm worked with Lee for almost 10 years, and the recording he made captures what he calls "one of my favorite memories of the old man." The funny video shows an animated Lee talking about his love for the F-word. "I don't say it 'cause I don't say dirty words," he says. "But it seems to me that that so-called dirty word is probably the most useful word in the English language." He even goes so far as to say he wants to "start a movement" to "legalize and legitimize" the curse word.
While Lee made some good points as to why the F-word is so great, he of course mentions his other favorite word—"Excelsior!" The animation captures him shouting the Latin word twice before the whole studio starts chuckling.
Check out the animation below, plus some character design sketches that capture Lee's eccentric personality perfectly.
Stan Lee's former sound engineer Aron Fromm made an animated short about the comic book legend's love of cursing.
View this post on Instagram
View this post on Instagram
View this post on Instagram
Aron Fromm: Website | Instagram | Twitter | YouTube
h/t: [Laughing Squid]
All images via Aaron Fromm.
Related Articles:
RIP Stan Lee: Fans Share Heartfelt Tributes to the Late Comic Book Legend
Giant Mural Tribute to Comic Book Legend Stan Lee Pops Up in Glasgow