While crochet may seem like an activity best suited for the cooler months, there are a lot of amazing crochet projects that are perfect for the summer. Nothing proves that more than the fun, fringy bag that creator Khara Plicanic teaches students how to make during her Crochet Crash Course with My Modern Met Academy. In the hour-long online course, Plicanic takes you step by step through the process and allows you to get comfortable with the basics of crochet.
This means that, before long, you'll be able to complete a host of other projects. Whether it's a cute sunglasses case, a stylish halter top, an oversize beach tote, or a colorful freeze pop holder, there's so much that you can create when the weather heats up. And by using either lightweight or cotton yarn, you come away with something appropriate for the season.
Before you get started on your next project, Plicanic has a few handy tips that will set you up for success. First, keep your yarn tangle free by placing them in a laundry basket and feeding it through one of the holes on the side. Second, look around for different designers that you like and try out different projects. And don't get stuck on one type of crochet. "If you typically make hats and scarfs, give amigurumi (cute crochet toys) a try," she suggests.
Lastly, don't let frustration take over. It's normal to need a break, and it's better to do so before getting overwhelmed with whatever you are making. Just remember that crochet is supposed to be fun. Plicanic suggests just working on your projects when you have time without worrying about whether you feel like you're falling behind or making mistakes.
And if you are looking for a fun summer project to occupy your time, why not join her and learn how to create your own fringy bag? It makes the perfect summer accessory, and with endless ways to customize it, you can make bags to match your swimsuit or the outfit you'll be wearing to your next summer concert. As the course is aimed at beginners, don't worry if you've never picked up crochet hooks. All you need to do is sit back and let Plicanic help you master your new creative hobby.
Who says that crochet isn't a hobby for the summer? Using lightweight or cotton yarn, you can create endless items for warmer weather.
Here are some great summer crochet projects to get you inspired.
View this post on Instagram
View this post on Instagram
View this post on Instagram
View this post on Instagram
Ready to pick up your crochet needles? Join creator Khara Plicanic as she takes you step by step through the creation of an easy, fun fringy bag that's the perfect summer accessory.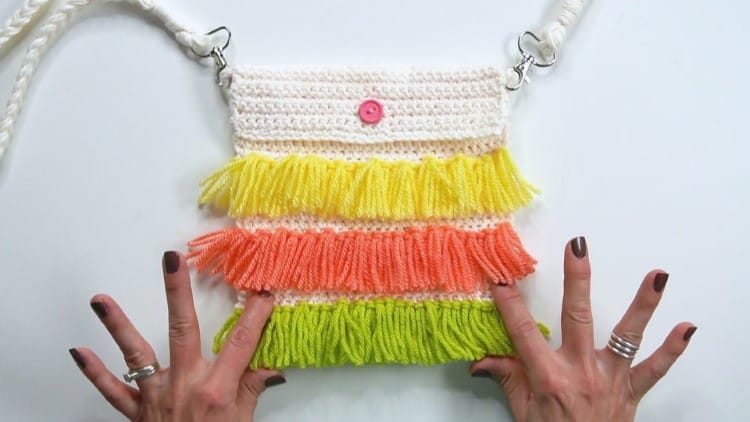 Watch a sneak preview of this online crochet class and enroll today.
Khara Plicanic: Website | Facebook | Instagram
My Modern Met Academy: Website | Facebook | Instagram | Pinterest | TikTok
Related Articles

:

10 Types of Crochet Stitches and Styles To Try [Infographic]

Stitch Your Favorite 'Friends' Characters With This Cool Crochet Kit

Multi-Talented Creative Crafts Charming Crochet Projects and Shows You How

Artist Releases DIY Crochet Pattern for Her Adorable Turtle Toy With Removable Shell