For seven years, design studio Dorothy has been innovating the way we look at an ordinary map. By transforming the names of familiar cities and towns into the titles of well-known songs, they've made getting from point A to point B all the more thrilling. Now, they've expanded their selection of song maps to include the UK and it features over 1,400 well-loved musical tracks to create a new view of the countries, cities, streets, and sites.
The U.K. Song Map joins the original London Song Map, U.S.A. Song Map, and World Song Map in creating a whimsical fantasy world where music rules. Each song is carefully placed to add meaning to its chosen area. Some songs, like The Clash's London Calling or Simon & Garfunkel's Rose of Aberdeen, are obvious choices. But there are plenty of other, unexpected tracks that will make you think.
For instance, the tiny Isle of Sark is labeled with Arcade Fire's hit No Cars Go, a clever nod at the island's ban on vehicles. And Tom Jones' Welsh heritage—and his song The Green Green Grass of Home—fits perfectly for the National Parks of Wales. In fact, Dorothy arrived at over 1,400 songs by not only labeling cities and towns, but also including rivers, mountains, and landmarks.
To add to the fun, they've also created a Spotify playlist with every track from the U.K. Song Map. Totaling 93 hours of listening time, it's the perfect companion for any road trip. And, as always, the U.K. Song Map is available as a four-color litho print, featuring an A-Z key for every song on the map. True map lovers will also be happy to hear that it's also available as a bundle with the World Song Map at a special price.
The U.K. Song Map uses music as an innovative guide across the country.
Over 1,400 songs are used to label cities, towns, rivers, and landmarks.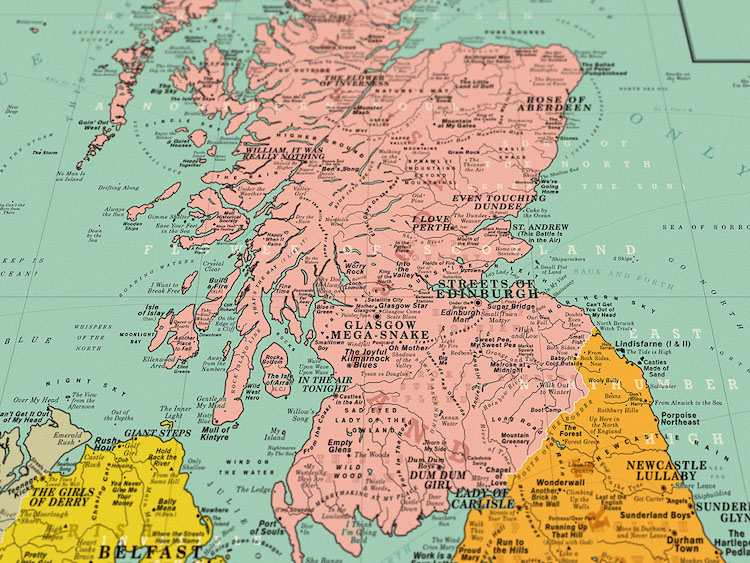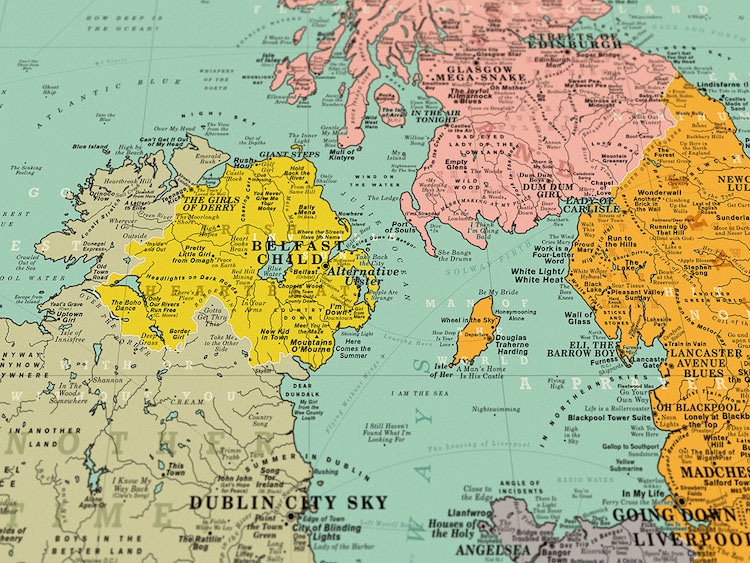 Each track is specifically chosen to bring out the meaning of the area it labels.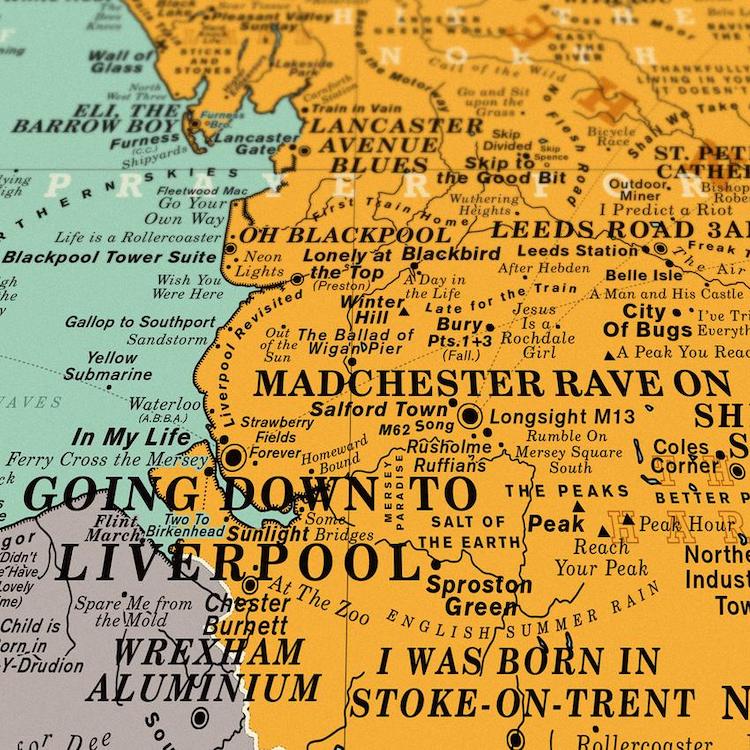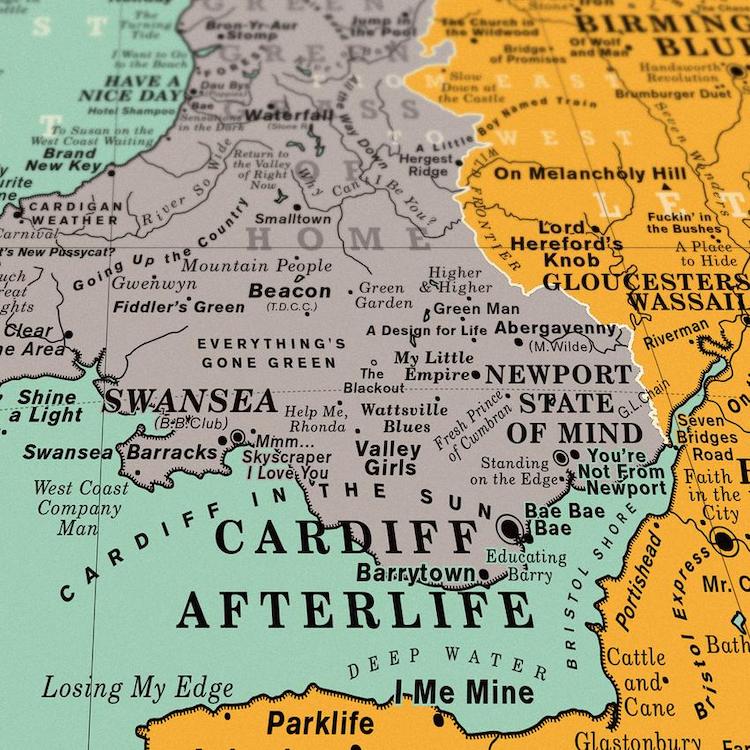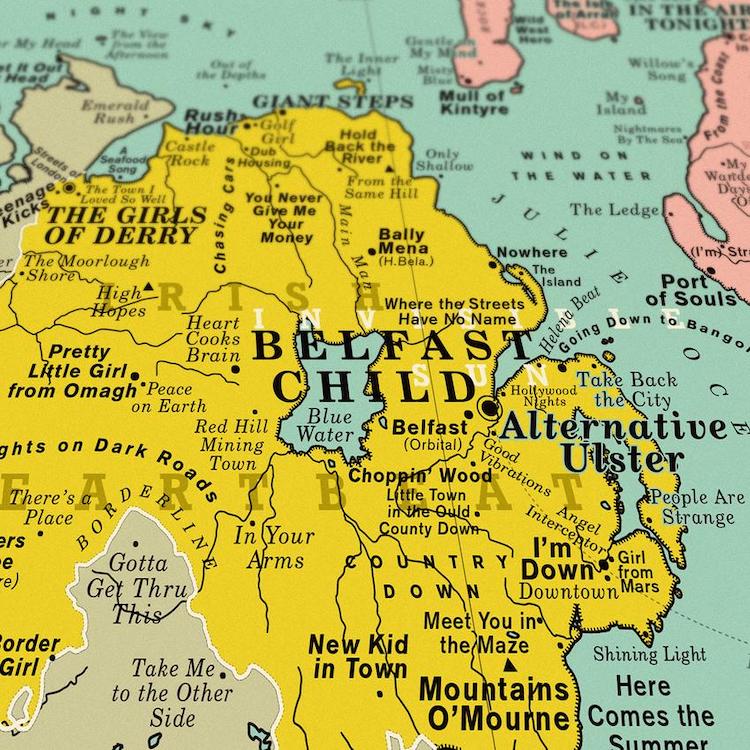 Dorothy: Website | Facebook | Instagram
My Modern Met granted permission to feature photos by Dorothy.
Related Articles

:

15+ Scratch-Off Maps to Creatively Track Your Travels Around the World

These Amazing Maps Show All the Rivers Running Through the United States

Atlas of Literary Maps Illustrates the Imaginary Worlds of Beloved Works of Fiction

Illustrator Creates Colorful Hand-Drawn Maps Filled With Playful Details