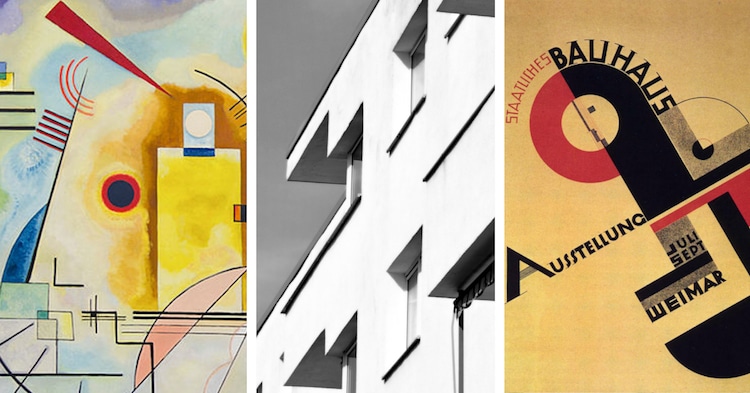 Throughout the 20th century, several styles of avant-garde art helped shape modern art. While many of these genres—including subconscious-based surrealism and energetic abstract expressionism—predominantly favored paintings, the Bauhaus movement encompassed a wide array of mediums, materials, and disciplines.
Ranging from paintings and graphics to architecture and interiors, Bauhaus art dominated many outlets of experimental European art throughout the 1920s and 1930s. Though it is most closely associated with Germany, it attracted and inspired artists of all backgrounds. Today, its influence can be found in art and design all over the world, whether within the walls of a museum or on a suburban street.
What is Bauhaus?
Bauhaus—literally translated to "construction house"—originated as a German school of the arts in the early 20th century. Founded by Walter Gropius, the school eventually morphed into its own modern art movement characterized by its unique approach to architecture and design. Today, Bauhaus is renowned for both its unique aesthetic that inventively combines the fine arts with arts and crafts as well as its enduring influence on modern and contemporary art.
History
In 1919, German architect Walter Gropius established Staatliches Bauhaus, a school dedicated to uniting all branches of the arts under one roof. The school acted as a hub for Europe's most experimental creatives, with well-known artists like Josef Albers, Wassily Kandinsky, and Paul Klee offering their expertise as instructors.
Bauhaus as an educational institution existed in 3 cities—Weimar (1919 to 1925), Dessau (1925 to 1932), and Berlin (1932 to 1933)—until it was closed due to mounting pressures from the Nazis. However, even after facing permanent closure, the influence and aesthetic of the school persisted, culminating in the Bauhaus movement.