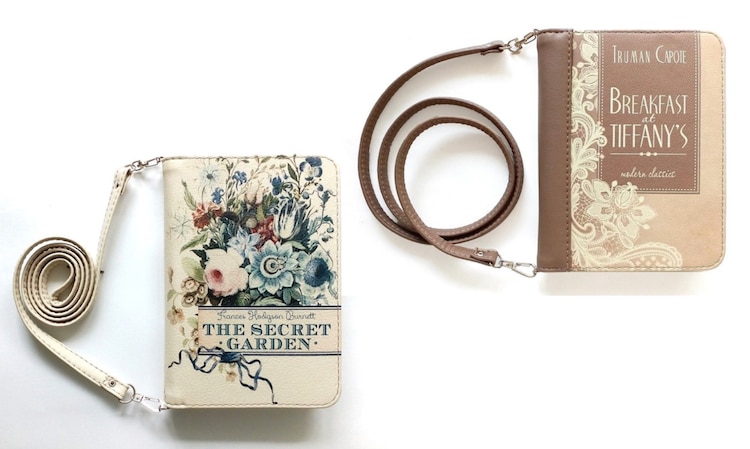 You're not supposed to judge a book by its cover—but what about a purse? Illustrating that beautiful bindings are always in style, Elena Myloslavskaya of BAGatelle Studio crafts eye-catching clutches masquerading as charming editions of classic literature.
Each of BAGatelle Studio's book bags offers a fresh take on an old masterwork, like The Secret Garden by Frances Hodgson Burnett and Breakfast at Tiffany's by Truman Capote. In order to capture the spirit of the well-known stories, the purses feature fitting cover art, including a blossoming bouquet of flowers for Burnett's book and a sleek and stylish lace motif for Capote's classic novella.
To make carrying each book a breeze, each clutch comes with a detachable strap. Every book bag is also outfitted with a magnetic snap and metal zipper closure and is made from fully-lined vegan leather, assuring that your bookish belongings will be safe and sound wherever your adventures take you.
You can pick up your own Secret Garden and Breakfast at Tiffany's book bags in the My Modern Met Store.
These beautiful book bags by BAGatelle look like classic novels, including The Secret Garden…
And Breakfast at Tiffany's.
Each fully-lined purse is made from a durable vegan leather adorned with a magnetic snap and metal zipper closure.
You can find this pair of book clutch bags—as well as more from BAGatelle's "library"—in the My Modern Met Store.
Related Articles:
3D Bookmarks Come to Life When Pressed Between the Pages of Your Favorite Book
Superhero Bookends Float in Mid-Air to Save Your Books From Falling Over
Charming Book Explores the Bond Between 50 Famous Artists and Their Cats