American toy company Mattel continues to expand its range of diverse and inclusive Barbies with its latest addition—a doll with Down syndrome. This model is part of the Barbie Fashionistas line, a collection that features dolls of different body types, ethnicities, disabilities, and more. With this new Barbie, toy manufacturer Mattel hopes to help more children find representations of themselves in the toys they play with.
The Down syndrome doll was made in collaboration with the National Down Syndrome Society (NDSS) in the U.S., which oversaw the design of the Barbie to ensure it included characteristics of those who have the condition, including a shorter frame and longer torso. There are also many thoughtful details incorporated into the outfit of the Barbie. For instance, her puff-sleeve mini dress is decorated in a blue and yellow floral print with pink butterflies. Blue and yellow are the colors of Down syndrome awareness, and butterflies symbolize the condition. Even her pink neckless includes a pendant with three arrows, representing the third 21st chromosome that people with Down syndrome have. It also coordinates with the ankle foot orthoses (AFOs) which support her as she walks.
"This means so much for our community, who, for the first time, can play with a Barbie doll that looks like them," says Kandi Pickard, NDSS president and CEO. The new model has already sparked positive reactions from those who have Down syndrome, including British model Ellie Goldstein. She shared a video of her reaction to the doll. "When I saw the doll I felt so emotional, and proud," she says. "It means a lot to me that children will be able to play with the doll and learn that everyone is different…Diversity is important as people need to see more people like me out there in the world and not be hidden away, Barbie will help make this happen."
The model will retail for $10.99. You can learn more about the Barbie and where to buy it by visiting Mattel's website.
Mattel has launched a Barbie with Down syndrome, adding to its diverse array of dolls.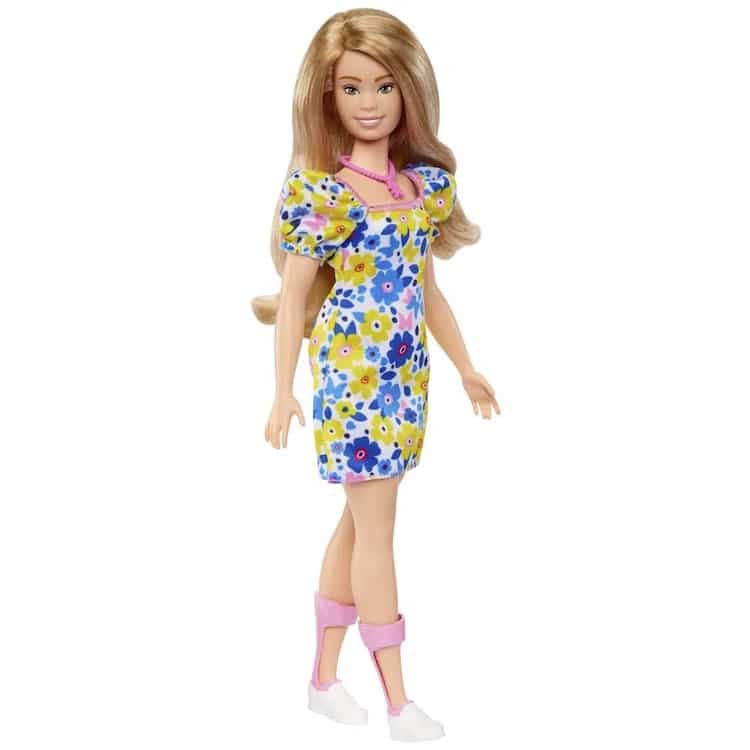 British model Ellie Goldstein, who has Down syndrome, shared her feelings about the new Barbie.
View this post on Instagram
h/t: [The Guardian]
All images via Mattel.
Related Articles:
'Barbie' Movie Releases Posters for Every Character of Its Star-Studded Cast
Barbie Unveils Aviator Bessie Coleman Doll in 'Inspiring Women' Line
Mattel Creates Barbie Doll to Honor Madam C.J. Walker, the First Self-Made Woman Millionaire