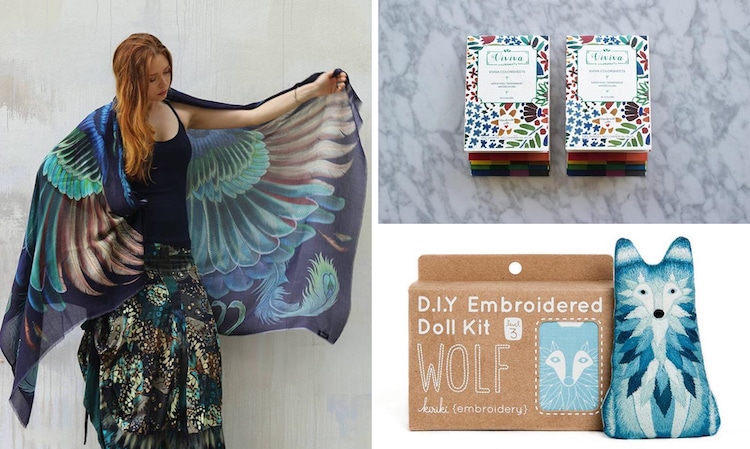 Sometimes the closer you are to someone, the harder they are to shop for—so finding a gift for your sister? It's a lot of pressure. Fortunately, My Modern Met Store has made the process much easier by curating a special selection of products your sister is sure to love. From fashionable accessories to fun games, you're sure to find the perfect gift.
Does your sister have a bohemian side? Creative brand Shovava makes exquisite scarves and shawls based on original hand-painted designs. The Nikola Shawl is inspired by the vibrant plumage of the peacock, with large blue-and-green wings that span the length of the fabric. Made from 100% organic cotton fabric, this accessory will keep your sister warm indoors and outdoors all year long. Likewise, the Adjustable Three-Piece Squirrel Ring by Mary Lou is an adorable way for her to show off her wild side. She only has to put on the three different pieces and the enamel squirrel will look like it is scurrying over her fingers towards the prized nut.
Another great gift idea for a spectacular sister is a fun and beautiful puzzle—it'll offer her a great way to spend her spare time. The Four Point Moon Puzzle has been lauded by space-lovers and jigsaw-enthusiasts alike. Based on the clearest image of the Moon to date, your sister will love traversing the rocky surface as she completes this circular puzzle. Pair it with the Curved Moon Phase Necklace in Silver to make a lunar-inspired gift set that she will not soon forget.
Scroll down to see more gifts for your sister, and head on over to My Modern Met Store to browse the entire collection.
Surprise your sister with one of these fabulous gifts!
Nikola Shawl
Big Wooden Cat Pile Game
Viviva Colorsheets
Frida Kahlo Action Figure
Four Point Moon Puzzle
Wolf Embroidery Kit
Curved Moon Phase Necklace in Silver
Adjustable Three-Piece Squirrel Ring
Pride and Prejudice Book Clutch
Color Wheel Pendant
Find more unique gifts for your sister in My Modern Met Store!
Related Articles:
26 Fun & Artsy Gifts For the Van Gogh Fan in Your Life
Surprise Your Favorite Guy With One of These Small Gifts
10+ Essential Art Supplies to Help You Start Drawing Your Own Comics