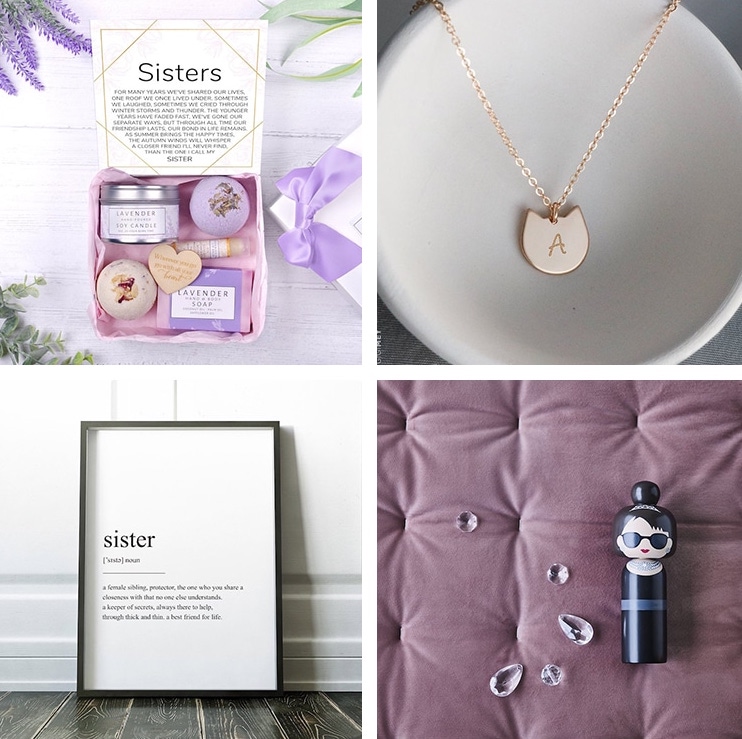 Sisters, what would we do without them? Whether you've got a big sister, a little sister, or a twin, she's likely one of your favorite people and your closest friend. Blood-related or not, a sister is always there for you no matter what, so she surely deserves a gift to show how much you appreciate her. And if you're a sister yourself, let's face it, you'll probably end up wanting to borrow (or steal) whatever you get her, so you're practically shopping for yourself.
Some sisters can be difficult to buy for, but luckily we've curated a wide variety of gifts she's sure to love. For sisters that tell each other everything, check out the "pinky promise" necklace or the wish bracelet, featuring a secret compartment within its clasp for storing rolled-up notes. If you and your sibling live far apart, why not offer a remedy for homesickness with home state-themed candles? Each one has its own location-based scent profile that will stay with your sis wherever she roams. And if the two of you bond over a specific family recipe, you can get it etched into a unique cherry wood cutting board, so she'll never forget it.
Looking for a gift for your sister? Check out our 35+ thoughtful ideas that celebrate your unique bond.
Interlocking Circle Sister Necklace
Sister Definition Print
'Coffee Then Create' White Glossy Mug
Secret Wish Bracelet
Sister Necklaces
Sisters Gift Box Set
Paint-By-Numbers Kit
Solid Silk Eye Mask
Audrey Hepburn Kokeshi Doll
Pride and Prejudice Book Clutch
Women in Art: 50 Fearless Creatives Who Inspired the World Book
RGB & CMYK Earrings
"Color Me Swoon" Coloring Book
Wolf Embroidery Kit
Wine Soap Set
Mini Tag Initial Necklace
Binge-Watching Beauty Kit
Solar System Bib Necklace
Artist Sock Set by Many Mornings
Morse Code Bracelet
Family Recipe Cutting Board
The Wildflower's Workbook
Assorted Tea Sampler
Personalized Photo Drink Coasters
Macrame Wall Hanging Picture Display
Monogrammed Cat Pendant
52 Lists for Happiness
Homesick Candles
Avian Friends 1,000-Piece Puzzle
Three-Piece Sloth Ring
Portable Bluetooth Stereo Speaker
Vintage-Inspired Bird Scarf
Astrology Sign Soy Wax Candle
Be Brave Wall Signs
'Sisters' Enamel Charm Bracelet
She Inspires Gift Book
This article has been edited and updated.
Related Articles:
30+ Garden-Themed Gifts That Are Perfect for Plant Lovers
20 Creative Gifts for Foodies That Even Picky Eaters Will Love
15 Golden Gifts for Sparkling Special Occasions
10+ Creative Gifts Under $10 That'll Make Someone Feel Like a Million Bucks