If you love science jewelry, Yugen Tribe's captivating crescent-shaped necklace will send you over the moon. Inspired by the lunar phases, this marvelous statement piece captures the ever-changing appearance of "our beautiful lunar sister."
Beginning and ending with a new moon, this beautiful necklace depicts 9 different stages of the lunar cycle. Each rhodium-plated brass and glass bauble features the celestial body's face at a specific time, culminating in a visual timeline of this fascinating phenomenon.
If you're wondering about the logistics of wearing 9 pendants at once, rest assured that these miniature moons are cleverly attached to each other. That means that, unless you're floating through zero gravity, they won't slip and slide around your neck.
You can find this stunning celestial necklace in the My Modern Met Store.
This magnificent moon phase necklace captures the beauty of the lunar cycle.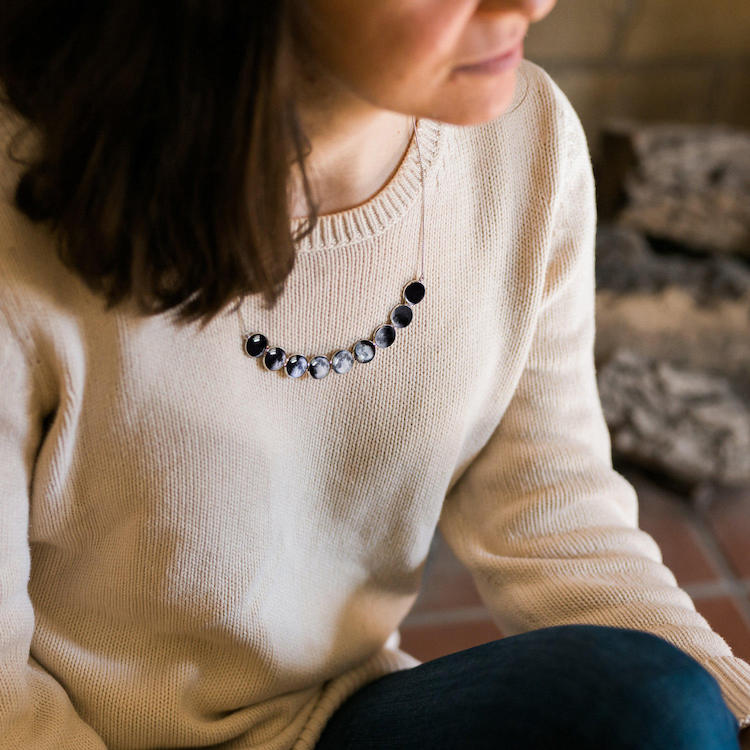 The out-of-this-world accessory is available in the My Modern Met Store.
Yugen Tribe: Website | Instagram | Facebook | Twitter | Tumblr
Related Articles:
Enchanting Necklaces Contain Tiny Pieces of the Moon
These Charming Embroidery Kits for Beginners Make Crafting a Breeze
Solar System Jewelry Is a Stylish Gift for Science Lovers
20+ Cool Amazon Finds for Astronomy Lovers
15+ Creative Products for Anyone Who Absolutely Loves Science