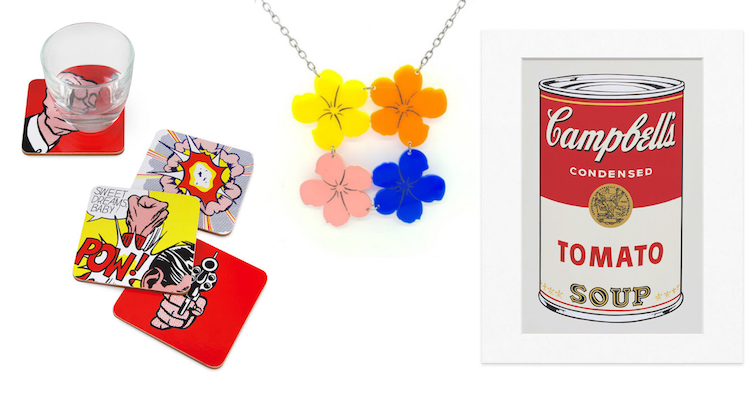 In the middle of the 20th century, Pop artists began to reimagine commercial products as works of art. Now, designers have taken this artistic approach full-circle, crafting unique items inspired by these iconic reinterpretations.
Here, we've compiled a colorful list of our favorite Pop Art presents. Ranging from pins and prints to coasters and socks, these eye-catching goodies let you bring the Pop Art movement to life. Whether you wear an Andy Warhol silkscreen print around your neck, add some POW! to your look with Roy Lichtenstein accessories, or wrap a Keith Haring mural around your finger, the Pop Art possibilities are endless!
Make a bold statement with these Pop Art gifts!
Campbell's Soup Cans Print
Balloon Dog Sculpture
Flowers Necklace
Crying Girl Phone Case
Keith Haring Ring
Andy Warhol Kokeshi Doll
Roy Lichtenstein Socks
Claes Oldenburg Stamp
Boom! Pin
Banana Brooch
Lichtenstein Coasters
Andy Warhol Socks
Comic Book Umbrella
Speech Bubble Shelf
Keith Haring Stickers
Related Articles:
6 Contemporary Artists Who Are Keeping Pop Art Alive Today
20+ Art History Accessories That Turn Everyday Objects into Masterpieces
Fun Footwear to Immortalize Your Favorite Famous Artist With Every Step You Take
15 Delightful Gifts Perfect for People Who Love Impressionism