Connecticut resident Rob Coutu really loves his two cats. After noticing that one of his kitties, a Savannah breed named Zach, wanted a structure that would allow him to perch high and survey his kingdom from above, Coutu got to work designing him and his fellow feline an epic tall cat tree. Over the course of nearly a year, Coutu assembled two multi-story towers that are connected by way of a tiny footbridge. It's a spectacular addition to his living space and best of all, it's a lot of fun for the cats (but mostly for Zach).
Felines are natural-born climbers who also need to scratch in order to maintain their sharp claws. Coutu's cat towers help them achieve both of these things while seamlessly blending into the overall aesthetic of his home. And the "home" aspect is emphasized in his creation. Coutu made both of the towers very tall—practically to the ceiling—with slanted roofs, a tiny sign that says "Zach Tower," as well as windows with balconies and box gardens at every level. Along each side are exits that lead onto a traditional cat scratcher with perches covered in carpet.
The expansive cat towers have become a hit on the internet and gone viral—something that Coutu never expected. "Because of the demand," he writes on Facebook, "I am considering making them for people as a custom install." He's also working on ways that you can buy his building plans and create custom designs for anyone that wants them.
Rob Coutu built two tall cat trees that span the length of his living room and are connected by a footbridge.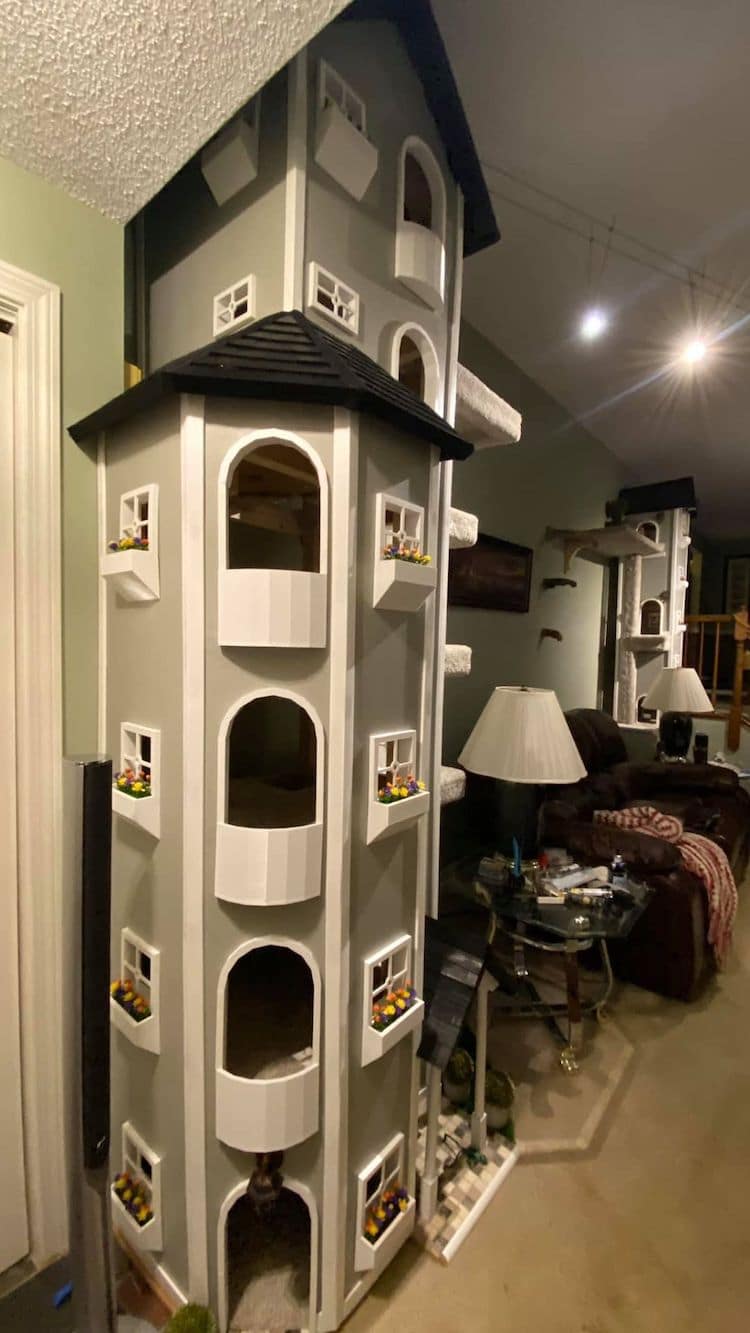 They have a lot of homey touches, including balconies, window gardens, and outdoor lighting.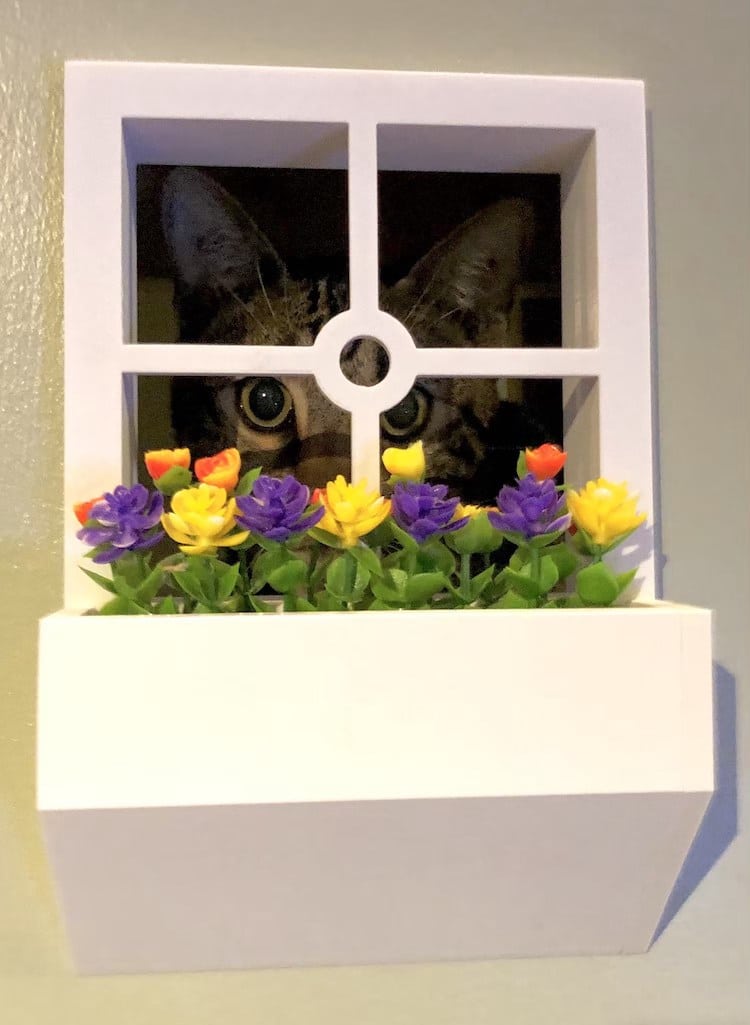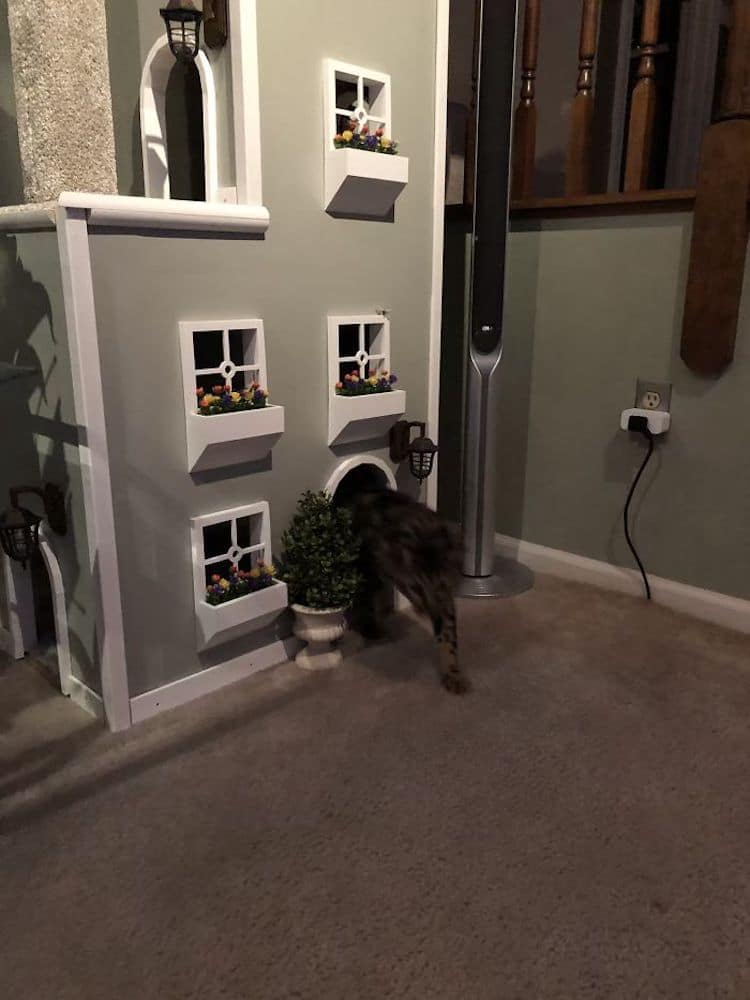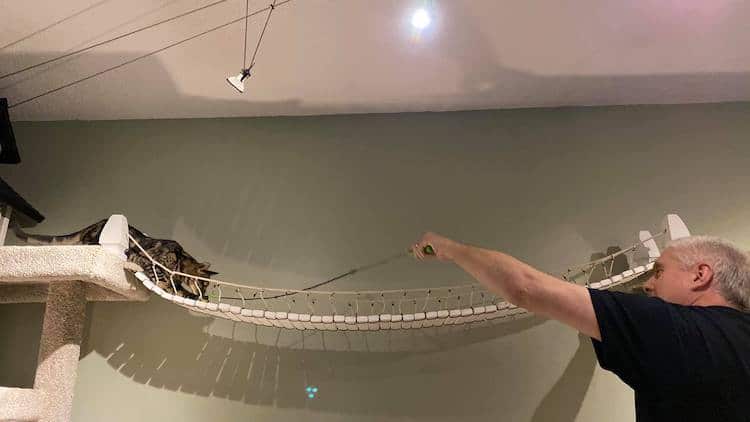 Rob Coutu: Facebook
My Modern Met granted permission to feature photos by Rob Coutu.
Related Articles:
"Ziggy Stardust" Felted Cat Caves Are Purrfect for Music-Loving Felines
Indoor Cat Towers Made From Real Trees Provide a Lifelike Outdoor Experience for Feline Friends
This Modular Cat Furniture Keeps Cats Happy Without Sacrificing Design
Study Reveals That Cats Are Bonded to Their Humans Just as Much as Dogs and Babies