View this post on Instagram
Trends are cyclical, and it seems that even the most outrageous ones find a way of coming back in vogue. Memphis design, a style synonymous with the 1980s, is one example of how a movement that, in the early aughts, would've seemed ridiculous is now back in style among influencers and tastemakers.
Once called "a shotgun wedding between Bauhaus and Fisher-Price," Memphis design is now taken seriously by the design community. And, over 40 years after its creation, it continues to have a lasting influence on design.
What is Memphis Design?
Memphis is a design movement that began in 1981. While the name might make you think that it was born in Tennessee, it got its start in Milan, Italy. Designer Ettore Sottsass founded the Memphis Group with other designers and architects. They took their name from a Bob Dylan song titled Stuck Inside of Mobile with the Memphis Blues Again, which was played on repeat during their first meeting.
View this post on Instagram
Like many creative movements, Memphis was a reaction against the status quo. The 1950s/60s mid-century modern and 1970s minimalism were about structure and straight lines. To counter that, Sottsass centered the group's thinking around "radical, funny, and outrageous"—essentially, disregarding what was considered in "good taste" at that time. The geometric shapes of Art Deco, the color palette of Pop Art, and 1950s kitsch inspired their unusual aesthetic.
Prevailing features of Memphis design:
Laminate and Terrazzo materials, which were usually found on floors, were incorporated into tables and lamps.
Squiggles, aka the Bacterio print, was designed by Sottsass in 1978.
Bright, multi-colored objects with a rejection of typical shapes. Often, instead of chair legs being rectangular, they'd be circles or triangles.
View this post on Instagram
The Memphis Group made its debut at the 1981 Salone del Mobile of Milan, a renowned furniture fair. Their style, while attention-grabbing, was commercially rejected and instead attracted a cult following. Designer Karl Lagerfeld was a fan and bought the entirety of Sottsass' first collection. Missoni and Christian Dior also took inspiration from the movement, with Dior's Fall 2011 collection helping revive enthusiasm for Memphis design. David Bowie was also an enthusiast, and when his estate auctioned his art collection in 2016, it was revealed that he had collected more than 400 pieces since the '80s.
Despite its fringe status, there were moments when Memphis entered the mainstream to inform pop culture in an unforgettable way. Its aesthetic can be seen on the set of Saved by the Bell and Pee-wee's Playhouse.
The furniture realm is largely where they stayed (although they also created other design objects) until 1988, when the collective officially disbanded; Sottsass left in 1985.
How is Memphis design making a comeback?
Memphis design began to reemerge in 2005 and 2006. The LACMA in Los Angeles exhibited a survey of Sottsass' designs a year before he passed away. Many years later in 2014, Nathalie Du Pasquier—a founding member of the group—designed a collection of patterns for American Apparel.
In 2016, the brand Supreme released a series of skate decks and clothing designed by Alessandro Mendini, who appeared in the first Memphis show. And in 2017, the movement made its way to a big box retailer—West Elm debuted a series from contemporary Du Pasquier-inspired brand Dusen Dusen.
Where to Find Memphis Design
Original Memphis Group pieces are collectible and are out of reach for many people. But, the squiggles, bright colors, and wacky shapes still live on, thanks to contemporary designers. For proof, look no further than the Instagram account of Raquel Cayre; she shares archival images of Memphis pieces as well as objects, interior, and architecture that carries on the spirit of the group.
Contemporary Designers Inspired by Memphis design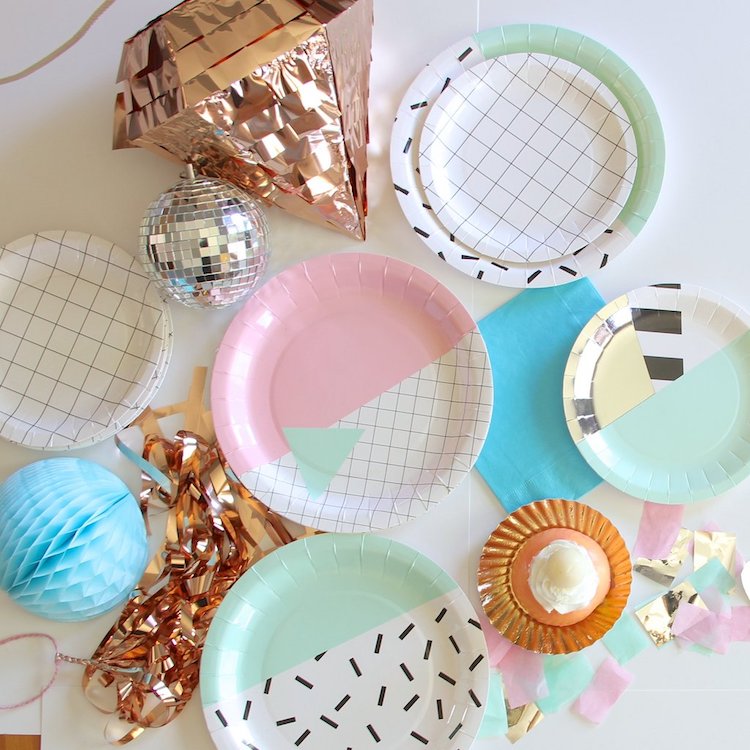 This post may contain affiliate links. If you make a purchase, My Modern Met may earn an affiliate commission. Please read our disclosure for more info.
This article has been edited and updated.
Related Articles:
Are You a Child of the 80s? Test Your Knowledge [Quiz]
Discover Why the Retro Vaporwave Aesthetic Is Trending
The Revival of the Arts and Crafts Movement and the Artisans Behind It
Mid-Century Modern Homes That Shaped the Future of Architecture Design