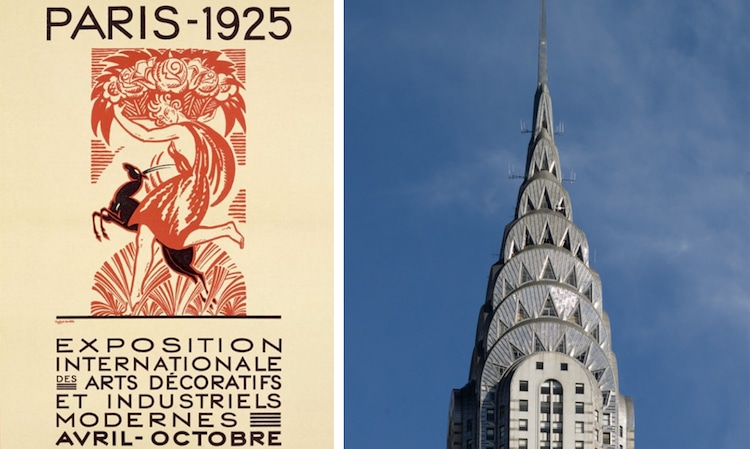 Like many 20th century movements, Art Deco is celebrated for its undeniable impact on the Modern Art movement. Unlike many other styles of art, however, Art Deco conveys an eclectic range of inspiration, from age-old antiquities to contemporaneous genres. Ironically, by combining such an array influences, artists working in this style crafted a one-of-a-kind movement that appeared to be entirely original.
Here, we present the ins-and-outs of the iconic movement, exploring the avant-garde art, exquisite architecture, and dazzling design that have boldly defined for nearly a century.
What is Art Deco?
Art Deco is a modernist movement that emerged in 1920s Europe. While many different aesthetics compose the movement—including different color palettes and a range of materials, from ebony and ivory to wood and plastic—it is most frequently characterized by streamlined, geometric forms contrasted by rich ornamentation and linear decoration.
History
While hints of Art Deco popped up in pre-World War I France, it became an international art movement around 1925. Initially known as Style Moderne, it was noted for its avant-garde and elegant aesthetic. It gained particular prominence and popularity during the Exposition Internationale des Arts Décoratifs et Industriels Modernes, or The International Exhibition of Modern Decorative and Industrial Arts, which heavily featured this exciting new style.
Shortly after the groundbreaking exposition, the snazzy style made its way to America, where it was embraced by artists and architects alike—particularly, in buzzing New York City. While it remained popular in both Europe and America throughout the 1930s, the style abandoned its Arts and Crafts roots for a sleeker look during the Great Depression.