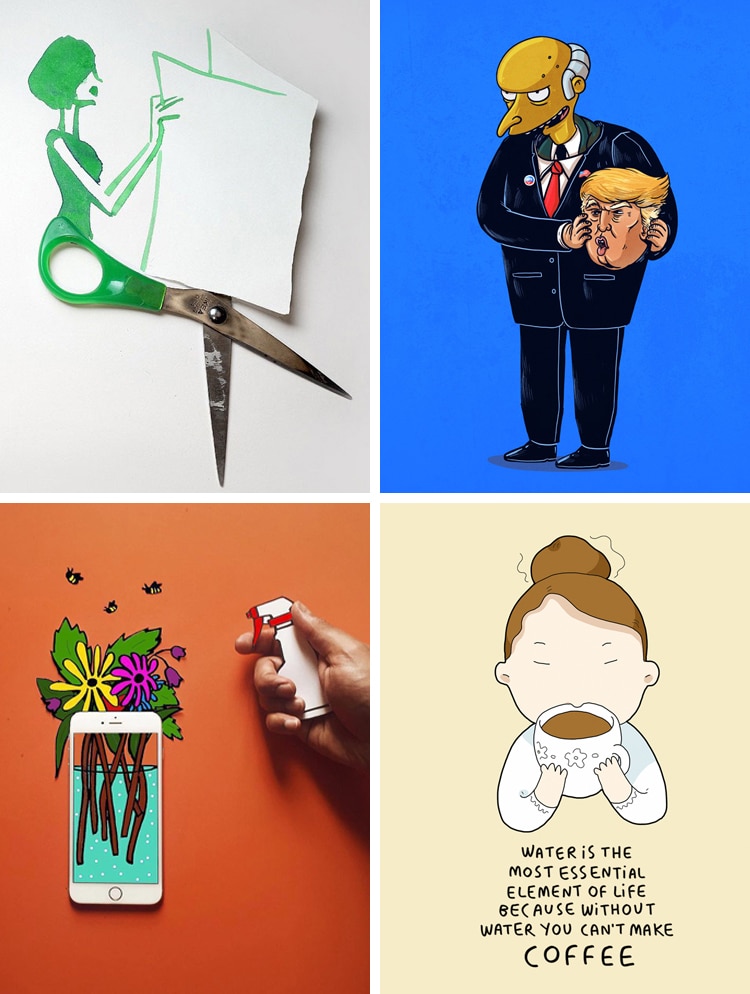 The daily news is a reminder that the world can be a grim place. We all need a break every once and awhile—like having ourselves a much-needed laugh. Luckily, there are witty illustrators whose imaginative drawings never fail to make us chortle, or at the very least, crack a smile.
The approach of these artists might be different, but the effect is always the same. For a moment, we're transported to their world. Some do this in comic form; Liz Climo, a My Modern Met favorite, produces sequential art about talking animals that run the gamut of jokes, friendships, and the small joys in life. Other illustrators use pop culture as a way to delight and surprise us. For years, Alex Solis has produced the series Icons Unmasked, which "reveals" the secret identities of famous people and characters. All along, it's been The Simpsons' Mr. Burns controlling Donald Drumpf.
If you need to brighten your day, check out these 12 illustrators with a biting wit and playful sense of humor.
David Olenick
David Olenick turns good food hilariously naughty in his bold illustrations. Adding wide, innocent eyes to all his characters, Olenick pairs them with devious commentary that says what we're all really thinking.
Brooke Barker
Brooke Barker is the woman behind Sad Animal Facts, an ongoing series that highlights some surprising things about the creature kingdom. The strange-yet-fascinating factoids are always accompanied by clever commentary from the animal itself, turning any "sad" truths funny. The project became so popular, it's now a book.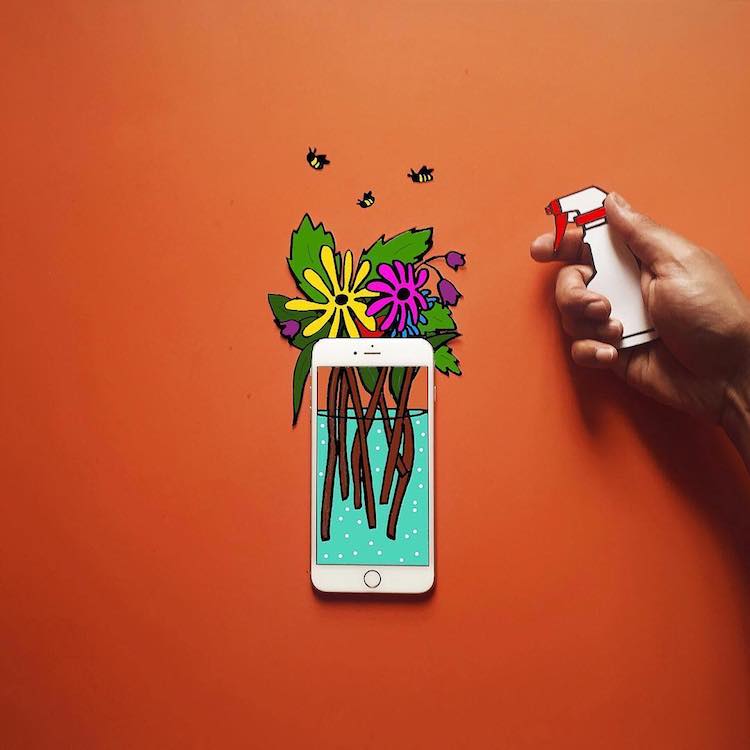 Anshuman Ghosh
When is an iPhone not an iPhone? When it's a flower vase! Anshuman Ghosh, aka @moography creates a "quirky little imaginary world" with the help of his device. Thanks to his colorful illustrations, the phone suddenly bursts with beautiful blooms.
Christoph Niemann
Like Anshuman Ghosh, Christop Niemann transforms one object into something else. Everyday items are given a new life with his charming drawings, allowing us to to see the world in a refreshing way.
Gemma Correll
We might not be able to escape the realities of life, but illustrators can commiserate with us. Gemma Correll regularly tackles mental health issues. She explains: "I suffer from clinical anxiety and depression, and I find that the best way to deal with it is to find humor in it."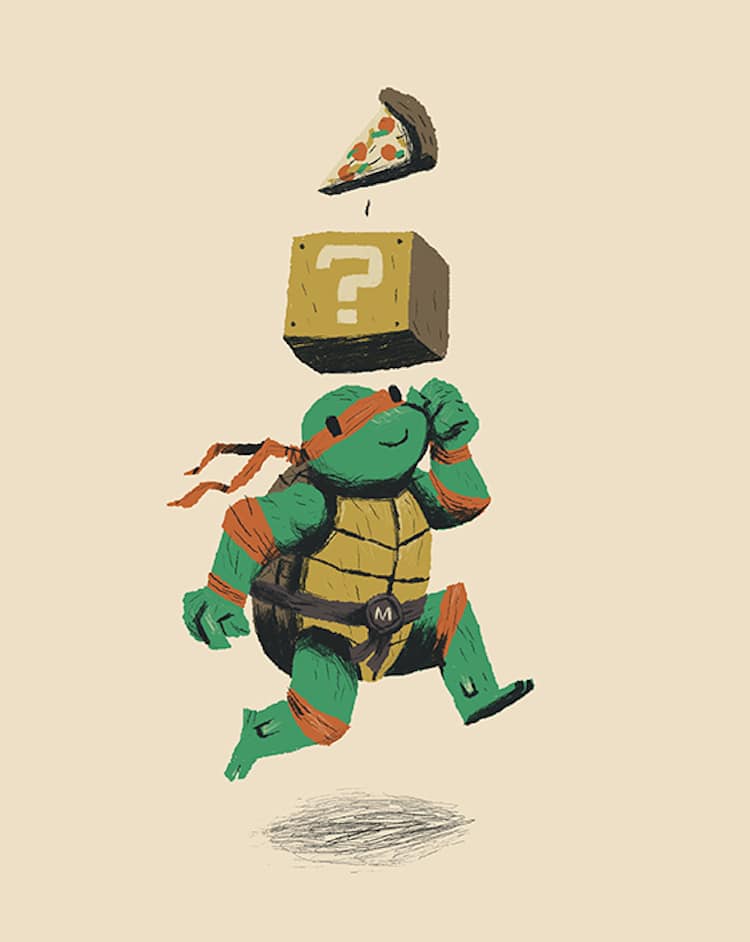 Louis Roskosch
Louis Roskosch taps into nostalgia and creates cultural mashups in a charming, sketchbook-inspired style. Combining different facets of popular culture, his work will make video game, movie, and TV lovers take a walk down memory lane.
Liz Climo
Liz Climo's animal characters are just like us—they make new friends and have have spaghetti dinners. It's this type of slice-of-life humor that lets us escape from the everyday hustle and bustle. Can you see yourself in some of her creatures?
Jean Jullien
Driven by a quick wit and an even quicker pen, Jean Jullien creates eye-catching work that's instantly understandable. Often funny, he is also poignant, too. When the devastating Paris terrorist attacks happened in 2015, he created a Peace for Paris symbol that became an overnight icon.
2 Kinds of People
Are you the type of person that sets one alarm, or a dozen? As you scroll through the hilarious Two Kinds of People, you'll be saying "me" or "not me" the entire time.
Alex Solis
According to Alex Solis, there's a hidden identity to each our favorite pop culture figures. In his Icons Unmasked series, these alter-egos will surprise you—often, the two don't exist the same universe, but share a defining characteristic.
Fran Krause
Fear: everyone has it. We can either be ruled by our greatest despairs or learn accept them—and if you're Fran Krause, make people laugh about them, too. His popular Deep Dark Fears web comic illustrates other's phobias and nightmares. It's a humorous and powerful reminder that we aren't alone.
Lingvistov
For those that live off coffee and relish their sleep, Lingvistov's illustrations are speaking your language. Witty and totally relatable, the simple drawings and funny copy are available as prints, cards, and clothing.