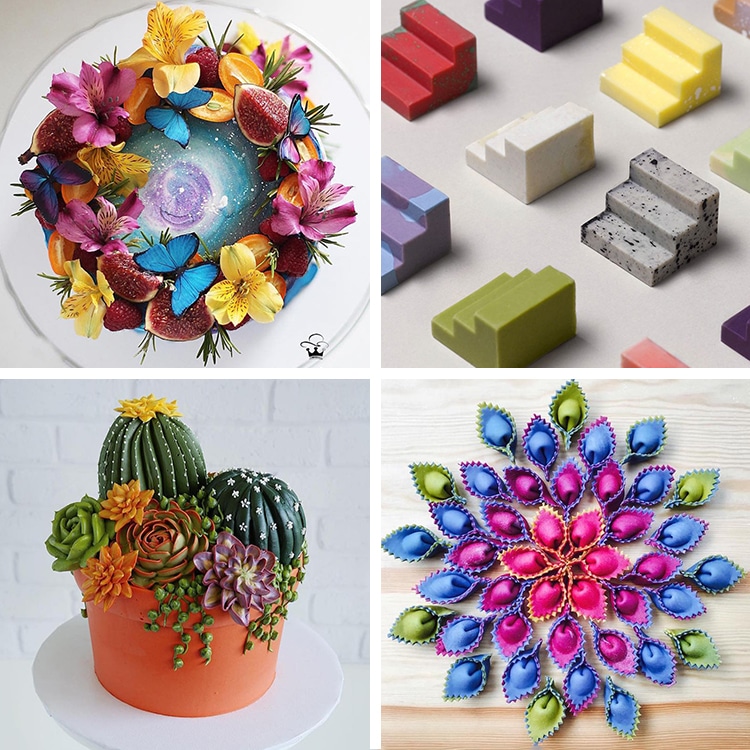 As a child, you were probably told not to play with your food, but many artists around the world are proving that experimenting with ingredients can result in incredible, mouth-watering masterpieces. Food art isn't just reserved for stylish plate arrangements at fancy restaurants anymore—many creatives are taking to their own home kitchens to produce delectable dishes that are as visually stunning as they are tasty.
From museum-worthy cakes and edible sculptures to artistically decorated cookies and pretty pies, we've curated a list of the best culinary creations from 2018. This past year, we've seen the work of many talented artisanal chefs, including Amaury Guichon who creates elaborate sculptures from chocolate. There's also been an upward trend in botanical-themed cakes, such as Leslie Vigil's buttercream succulents and Yulia Kedyarova's perfectly piped petals. And if you're a fan of optical illusion art, check out the mind-bending desserts by Ben Churchill that don't look like food at all. These artists are demonstrating that you don't need traditional materials to create amazing works of art.
Feast your eyes on our top 17 edible works of art from 2018.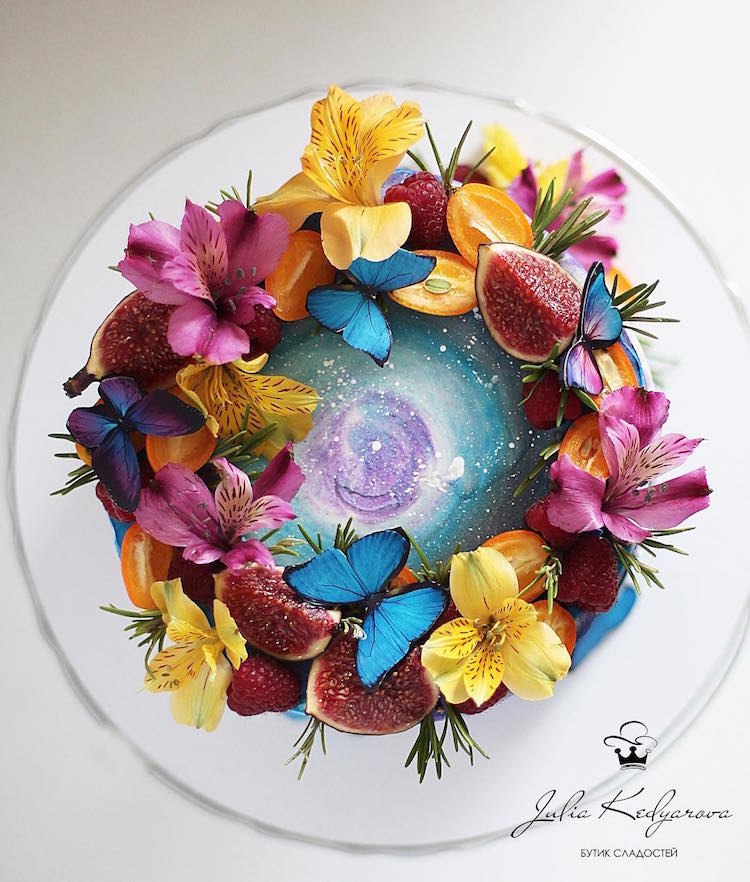 Nature-Inspired Cake Art by Yulia Kedyarova
Russian baker Yulia Kedyarova captures the beauty of nature with her mesmerizing cake designs. Her multi-tiered, sculptural masterpieces merge swirling galaxies with perfectly piped rose petals, leaves, and butterflies.
Read more: This Baker Makes Amazing Cakes With Edible Galaxies and Secret Gardens Within
View this post on Instagram
Fruit and Vegetable Carvings by Takehiro Kishimoto
Japanese chef and skilled food carver Takehiro Kishimoto transforms fruit and vegetables into intricate sculptural forms. Known in Japan as mukimono, the popular art of decorative garnishes transforms mundane meals into works of art that look almost too good to eat.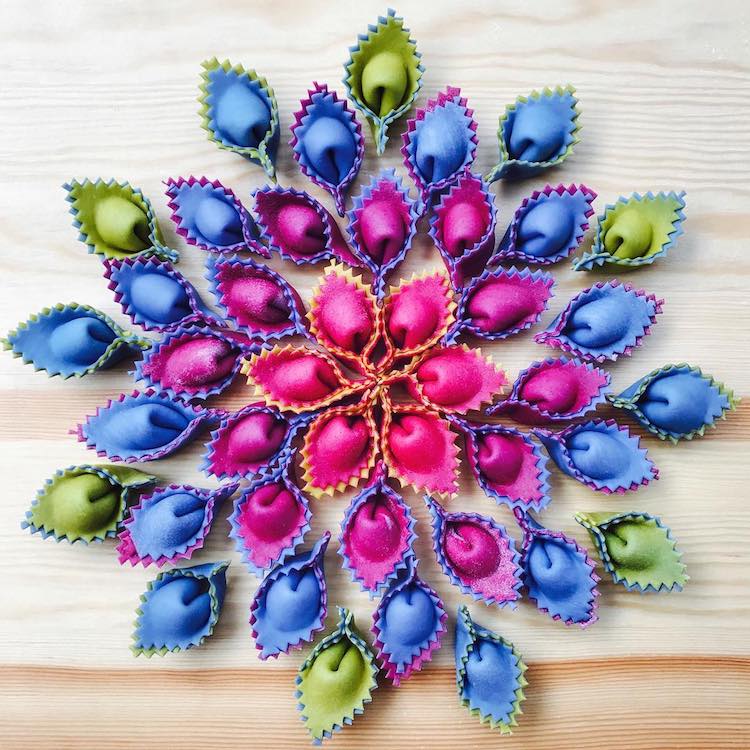 Rainbow Pasta by Linda Miller Nicholson
Pasta chef Linda Miller Nicholson uses plant-based ingredients to transform ordinary pasta dough into a full spectrum of rainbow hues. The resulting fresh, handmade pasta comes in a variety of fun forms and pretty patterns.
Read more: Pasta Chef Handcrafts Rainbow-Colored Noodles Using All-Natural Ingredients
View this post on Instagram
Shag Rug Cakes by Alana Jones Mann
Los Angeles-based baker Alana Jones-Mann creates custom cakes that capture the spirit of a '70s shag rug. Made by meticulously piping colorful buttercream frosting onto cake, Mann is able to creature the fuzzy texture and psychedelic patterns of the fun, nostalgic floor coverings.
Read more: Colorfully Textured Buttercream Cakes Frosted to Look Like Fuzzy Shag Rugs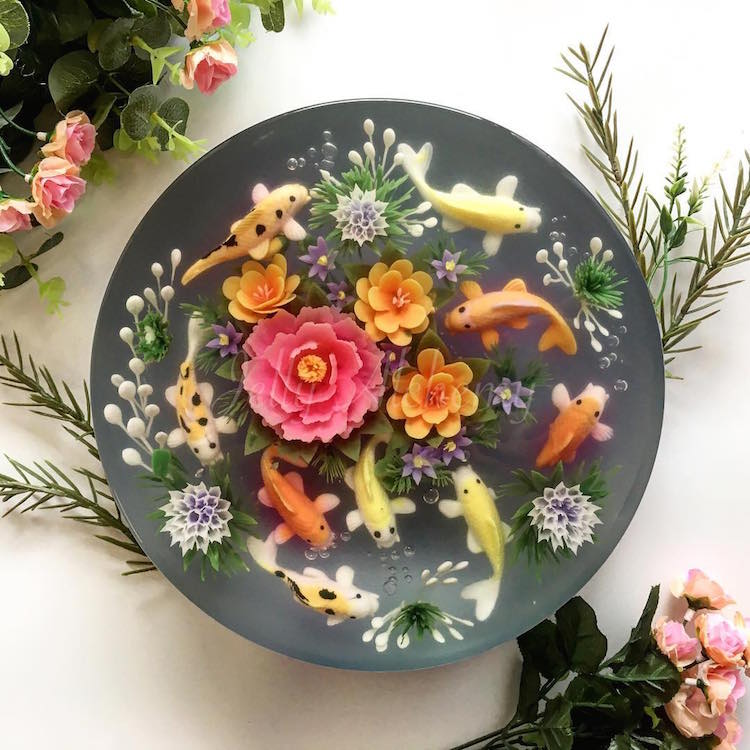 3D Jelly Cakes by Siew Heng Boon
Siew Heng Boon (of Jelly Alchemy) crafts incredible 3D jelly cakes that resemble decorative glass paperweights. Each delectable dessert encases edible koi ponds and pretty water gardens within clear gelatin domes.
Read more: Food Artist Creates Nature-Inspired Jelly Cakes That Look Like Pretty Koi Ponds
Hungarian Folk Art Cookies by Tunde Dugantsi
Self-taught food artist Tunde's Dugantsi creates intricately decorated gingerbread cookies inspired by traditional Hungarian folk art. Each perfectly piped design celebrates the oldest Hungarian gingerbread motifs from around two thousand years ago.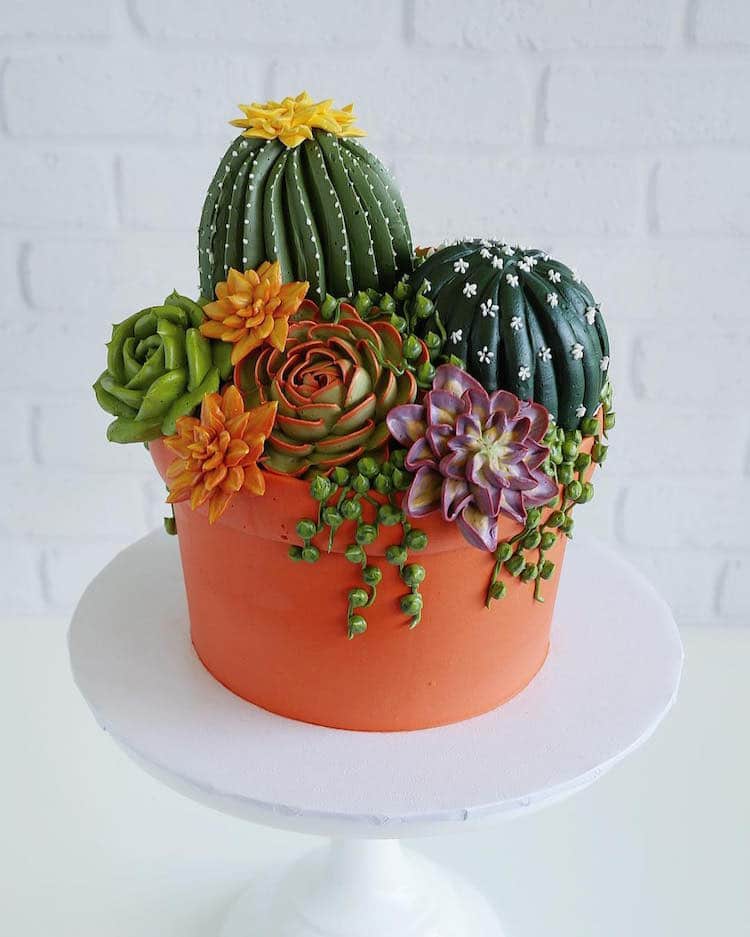 Buttercream Botanicals by Leslie Vigil
California-based artist Leslie Vigil is part of Tasteful Cakes, a family-owned cake shop that specializes in delectable desserts that look almost too good to eat. Vigil's multi-tier masterpieces are topped with a variety of nature-inspired buttercream frosting designs that resemble real-life succulents and bouquets.
Read more: Baker Tops Nature-Inspired Cakes with Realistic Buttercream Botanicals
Next: More Amazing Food Art from 2018