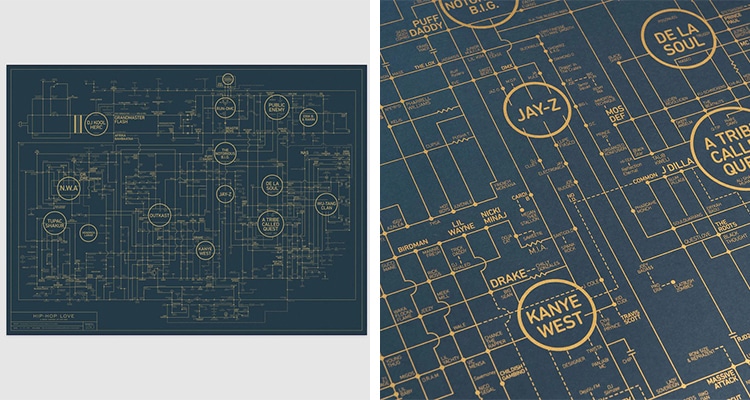 Sometimes, our homes are in need of a refresh. However, rather than switching out your furniture, you can quickly change the aesthetic with some new wall art. At My Modern Met Store, we carry an array of unique posters that will surely make a big impact on your decor. From celebrations of music genres to the history of the sneaker, each of these products is a statement piece that will spark conversation.
Two of our newest additions explore the development of two major music genres. The Hip-Hop Love Blueprint Poster, for instance, encapsulates the fascinating developments of hip-hop music across decades, all within the diagram of a classic turntable. Similarly, fans of alternative and independent music can now show off their love and knowledge with a visual history of the genre, all contained within the circuit board of an early transistor radio. While educational, these posters are also extremely beautiful to look at and are both screen printed with metallic gold ink.
Or, if you prefer a poster that delves into a different interest, we may have that too. Movie buffs will get a kick out of the Film Map Poster, for example. It reimagines a vintage Los Angeles street map with the titles of over 900 famous movies. Likewise, the Sneakerheads Poster captures some of the greatest moments in the history of the modern sneaker.
Scroll down to take a closer look at these unique posters, and head over to My Modern Met Store when you're ready to checkout.
Jazz up your walls with these unique posters at My Modern Met Store.
Alternative Love Blueprint: A History of Alternative Music
Hip-Hop Love Blueprint: A History of Hip-Hop
Rock and Roll Love Blueprint Poster
Inside Information: Sneakerheads Poster
Film Map Poster
U.S.A. Song Map Poster
World Song Map Poster
Follow My Modern Met Store: Facebook | Instagram | Pinterest | Twitter
Subscribe to My Modern Met Store newsletter for updates!
Related Articles:
Stunning Posters Illustrate the History of Jazz and Hip-Hop
These Scratch-Off Posters Have 100 Surprises Hidden in the Design
Stylish Posters Reimagine Classic Literature as Vintage-Inspired Postage Stamps