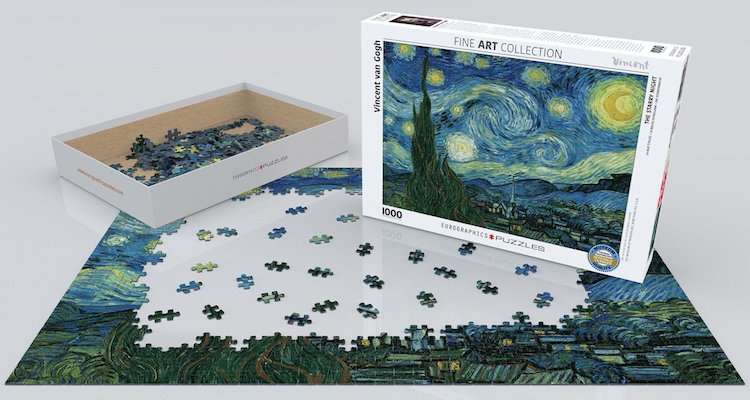 Completing a jigsaw and making art are two of the best stress-relieving activities, so why not find a way to combine them? Montreal-based puzzle manufacturer Eurographics reimagines iconic masterpieces from art history as 1,000-piece challenges that allow you to make your very own art gallery from the comfort of your home.
Puzzle enthusiasts can discover the imaginative imagery of Surrealism in the Frida Kahlo and Salvador Dali-inspired jigsaws. The Self-Portrait With Thorn Necklace and Hummingbird Jigsaw Puzzle explores the Mexican artist's personal life through unique symbolism. As you complete the vibrant design you will familiarize yourself with the different elements, including the foliage, butterflies, dragonflies, monkey, cat, thorn necklace, and a hummingbird. Similarly, the Dalí puzzle, Soft Watch at the Moment of Its First Explosion, features one of the painter's most famous motifs—a melting clock. By the time you've completed the puzzle, you'll be an expert in Dalí's distinct artistic style.
Likewise, fans of the Post-Impressionist movement can bring home one of Vincent van Gogh's most beloved paintings, Starry Night. This colorful jigsaw features a copy of the Dutch artist's work broken into many pieces and will challenge you to match the swirls with the bright orbs in the sky.
Scroll down to see these fine art puzzles, and head on over to My Modern Met Store to shop more jigsaws by Eurographics.
Explore art history with these exquisite 1,000-piece jigsaw puzzles.
Self-Portrait With Thorn Necklace and Hummingbird 1,000-Piece Jigsaw Puzzle
Starry Night 1,000-Piece Jigsaw Puzzle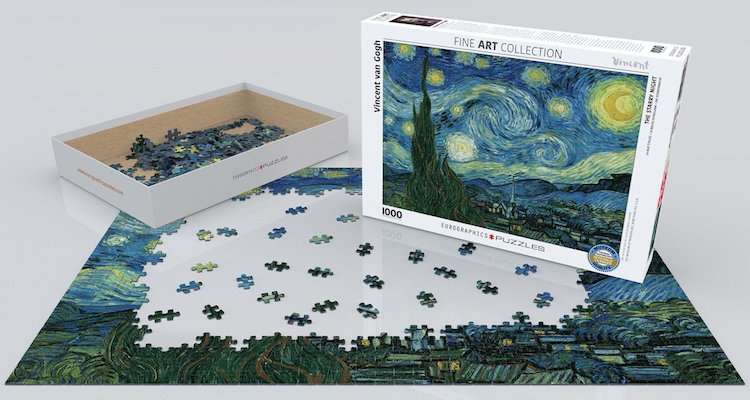 Soft Watch at the Moment of Its First Explosion 1,000-Piece Jigsaw Puzzle
Eurographics: Website | Facebook | Instagram
Related Articles:
20 Unique Reusable Face Masks Designed by Independent Artists
20 Charming Tea Infusers That Are Brewing With Creativity
26 Fun & Artsy Gifts For the Van Gogh Fan in Your Life