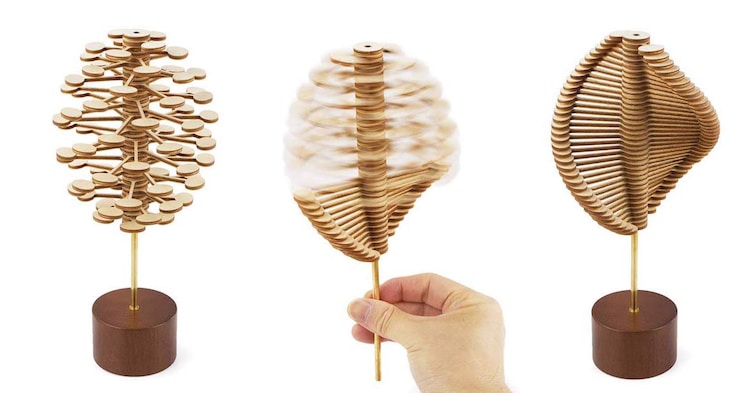 Designer John Edmark specializes in toys with a twist. Pairing an appreciation for playful movement with an interest in eye-catching design, Edmark has crafted a collection of kinetic creations, including the hypnotizing Helicone.
Edmark studied the connection between math and the natural world to create the Helicone. Specifically, he translated numerical, nature-based concepts like Fibonacci Numbers and the Golden Ratio into a plaything that shape-shifts into two natural forms right before your eyes.
"With a quick twist, Helicone magically transforms from a 'helix' to a 'pinecone' and back again in one amazingly elegant motion," Edmark explains. "To transform it, simply spin the handle and watch the magic unfold. To change it back, just spin it the other way. Intuitive, relaxing, fun…and addictive!"
To fully embrace the nature-inspired concept behind the toy, Edmark opted to craft the Helicone out of wood. In addition to giving the piece a rustic look and feel fit for a pinecone, the neutral color scheme of the wooden construction makes it a "versatile accessory for your creative life."
Along with the Lollicopter, a plastic, candy-colored version of the Helicone, this toy is available in the My Modern Met Store.
The Helicone is a toy with a twist.
With just a simple flick of the wrist, a helix…
…becomes a pinecone.
You can find this nature-inspired kinetic wooden toy in the My Modern Met Store.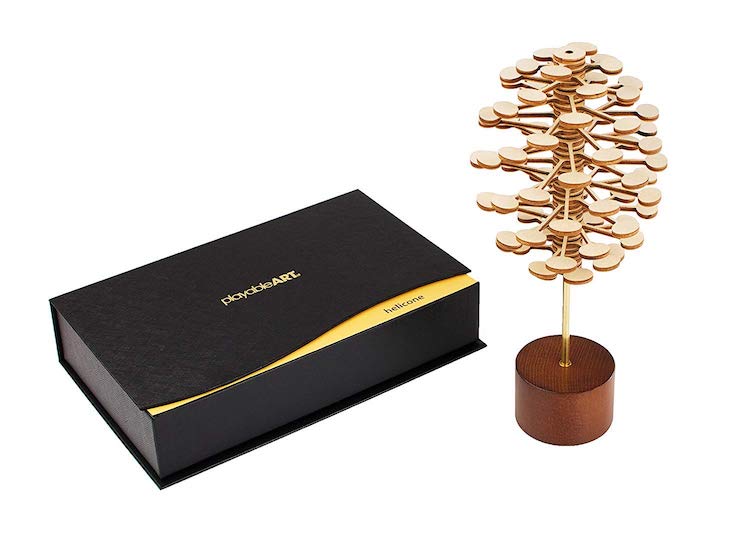 John Edmark: Website | Facebook | Instagram
Related Articles:
Wooden Cat Stacking Game is Like Playing Jenga, But With a Pile of Kitties
Feel Like a Kid Again When You Play With These Adult-Friendly Architectural Blocks
Modern Double Helix Bookcase Inspired by DNA Structures