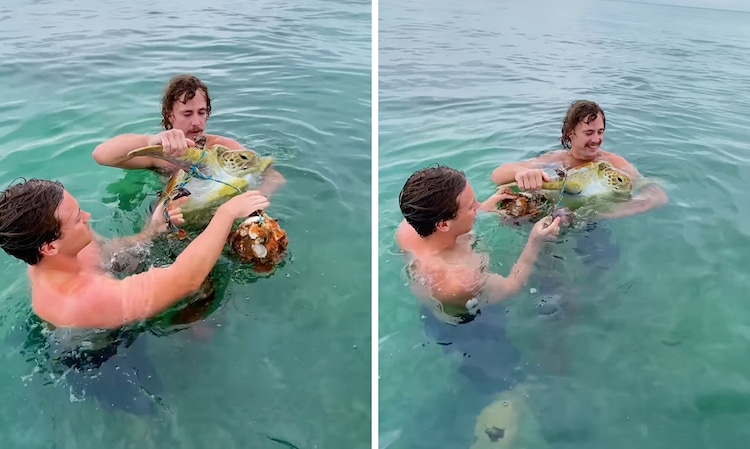 It's no secret that plastic and trash are littering our planet's waters. However, if you don't live by the sea, you may not always see the consequences of these ongoing issues. Australian adventurer Nick Fry recently shared a video where he and some of his friends helped free a sea turtle from a twisted crab pot net that had twisted around one of its fins.
The 22-year-old was sailing on a boat with a couple of other people when they spotted the turtle struggling to swim in the water. Fry immediately jumped in to assess the situation, accompanied by one of his friends. They quickly determined that the turtle was unable to continue on its journey because of a net that had gotten stuck around its fin. It also seems as though the net was filled with trash accumulated in the ocean.
While Fry kept the turtle still in his arms, the other man carefully unwrapped the net from around the turtle's fin. In time, they were able to completely free the animal from the plastic and let it continue on its journey, once again swimming as normal. Fry and his friends dutifully brought back the dangerous net and disposed of it in the trash, reminding people to be conscientious and pick up their litter for the sake of the wildlife.
You can follow Fry on Instagram and TikTok to see more of his adventures.
Australian adventurer Nick Fry came across a sea turtle that was trapped in a crab pot net and quickly freed it with the help of his friends.
View this post on Instagram
Nick Fry: TikTok | Instagram | YouTube
h/t: [Reddit]
All images via Nick Fry.
Related Articles:
Watch How a Helpful Guy Saves Local Sea Turtles From Unnecessary Suffering
Texans Are Rescuing Cold-Shocked Sea Turtles Stranded on Beaches
Massive Colony of Green Sea Turtles Migrating to Nesting Grounds Captured on Video