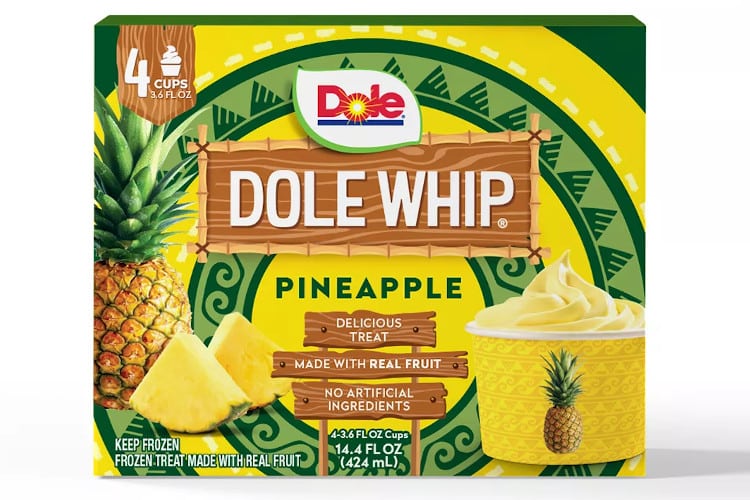 Ever since its introduction in 1984, Dole Whip has been a fan favorite frozen treat among Disney Parks visitors. Its fruity flavor is perfect for a refreshing break on a hot sunny day at Disneyland and Walt Disney World. For years, the famous soft serve has only been available at the theme parks and at the Dole Pineapple Plantation on Oahu—until now. Dole has announced that the delicious Dole Whip will be at select retailers as soon as April 2023.
One of the things that has made Dole Whip so beloved is its ingredients, which the company will be maintaining for the at-home version. Another reason the sweet treat has had a cult following is that it's a gluten-free and vegan-friendly option, as it is dairy-free and made with real fruit. Dole Whip is now being offered in nine flavors—pineapple, cherry, mango, watermelon, lemon, lime, orange, raspberry, and strawberry.
Fans of Dole Whip can look forward to having not only the classic pineapple flavor at home, but also mango and strawberry with this first release of flavors. The packaged version of Dole Whip will come with four 3.6 fl oz cups. The announcement was made at the Natural Products Expo West trade show in Anaheim, California, only a few minutes away from Disneyland itself.
Though it will soon be available in the freezer aisle of your local grocery store, some people have been trying their hands at making their own. During the 2020 pandemic, Disney and Dole shared the recipe for those who wanted to recreate the dessert at home while the parks were shut down. All it takes for four servings are 1/2 to 3/4 cup pineapple juice, 2 cups of frozen pineapple chunks and 1 cup of dairy-free vanilla ice cream, which you then blend together in a blender until it reaches the desired texture.
Of course, the days of making your own Dole Whip at home may soon fade, just like the bread baking craze of 2020. And perhaps if fans of Dole Whip embrace the grocery store version, soon a theme park ticket won't be necessary to enjoy all the variants of this fruity and refreshing dessert.
Dole Whip, a fan favorite frozen treat among Disney Parks visitors, will soon be available at select grocery stores.
On top of the classic pineapple flavor, the at-home version of Dole Whip will also be available in mango and strawberry.

Dole Sunshine: Website | Instagram | Facebook
h/t: [Hypebeast]
All images via Dole Sunshine Company except where noted.
Related Articles:
Scientists Make Blue Ice Cream With All-Natural Blue Dye Discovered in Red Cabbage
This Home Ice Cream Machine Produces Delicious Desserts in 60 Seconds
Disney Released Its Trailer for the Live-Action Remake of 'The Little Mermaid'
Rebel Wilson Gets Engaged to Her Girlfriend in Front of Disneyland Castle