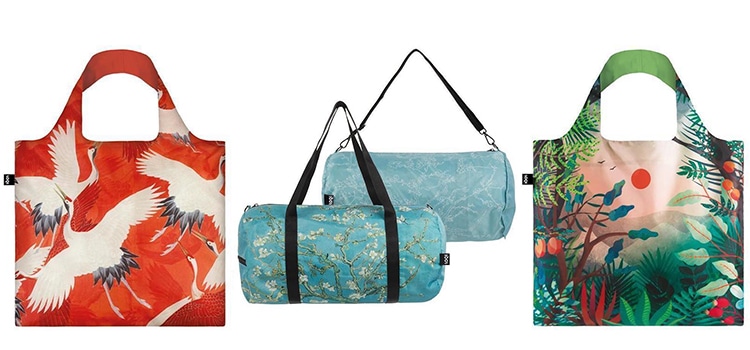 You never know when you'll need an extra hand to help you carry your belongings. Fortunately, creative brand LOQI has designed a line of fashionable totes and weekender bags to keep you prepared in style.
Each of LOQI's reusable tote bags includes a vibrant print inspired by original artistic masterpieces, like the Almond Blossom Reversible Tote by Vincent van Gogh and The Great Wave Tote by Hokusai. Simply unfurl the tote from its portable pouch and the water-resistant bag is ready to assist you in all of your grocery and convenience excursions. Or, wear it as a purse for an easy bohemian aesthetic that is sure to receive compliments.
Additionally, the creative brand has created a line of reversible weekenders, which combine two unique designs into one functional piece. The Bird & Arbaro Reversible Weekender features a daytime jungle landscape on one side and a nighttime scene of chattering birds on the other. With an adjustable and removable strap, side pocket zipper, and water-resistant polyester, you'll find that these bags will be with you for the long haul—whatever mood you're in.
Scroll down to see LOQI's line of reusable totes and reversible weekenders, and head on over to My Modern Met Store to pick up your own stylish bag.
Go from point A to point B in style with these stylish reusable bags!
Almond Blossom Reversible Tote Bag
Almond Blossom Reversible Weekender Bag
Arbaro Tote Bag
Bird & Arbaro Reversible Weekender Bag
The Great Wave Tote Bag
Woman's Haori With Cranes Tote Bag
Keith Haring Tote Bag
MAD Arabesque & Japanese Decor Reversible Weekender Bag
MAD Japanese Chrysanthemum Bag
Find all of these stylish bags by LOQI in My Modern Met Store!
LOQI: Website | Facebook | Instagram
Related Articles:
10 Subscription Boxes That Will Bring Joy to Your Mom's Door Every Month
25 Quirky Gifts Inspired by Surrealist Salvador Dalí
12 Rainbow Gifts That Will Fill Your Life With Color
Follow My Modern Met Store: Facebook | Instagram | Pinterest | Twitter
Subscribe to My Modern Met Store newsletter for updates!