Considered a modern art masterpiece, Claude Monet's Water Lilies series can be found in top museums around the world. While seeing these large-scale paintings in person is one way to experience their magic, publishing company teNeues has proven that you don't need to travel far to appreciate Les Nymphéas. In fact, with their Monet notecards, you can curate your own collection of Water Lilies without leaving your desk.
Over the course of 30 years, Monet painted 250 depictions of his idyllic garden in Giverny. To celebrate this series, teNues has selected five of these works to reproduce as full-color, foldable notecards: The Water Lily Pond, Water Lilies, Agapanthus, The Japanese Footbridge, and Waterlilies, Night Effect. Each set features four of each version, culminating in a collection of 20 cards and 20 envelopes.
What makes this stationery even more special is its pretty packaging. Rather than wrapping the cards in clear plastic or stuffing them in an envelope, teNues has packed them in a sturdy, reusable box. Featuring a magnetic closure, this box can be used to store trinkets, treasures, and other keepsakes that have made an "impression" on you.
You can find this delightful set of Monet cards in the My Modern Met Store.
These Monet notecards are a perfect way to share your love of Impressionism.
Even after you've sent all 20 cards, you'll have this reusable box to store all your trinkets and treasures.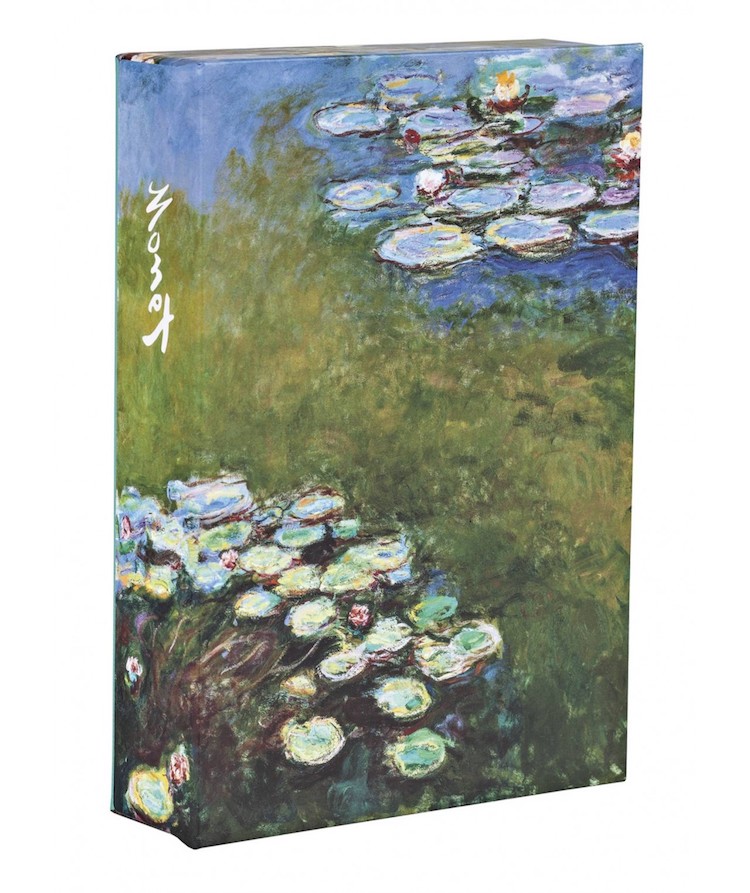 Related Articles:
Artistic Claude Monet Action Figure Magically Changes Color in Water
15 Delightful Gifts Perfect for People Who Love Impressionism
15 Fun and Creative Gifts for the Artist in Your Life
15 Portable Products for Traveling Artists to Stay Creative On the Go